Mahmoud Salehi Sentenced To 9 Years In Prison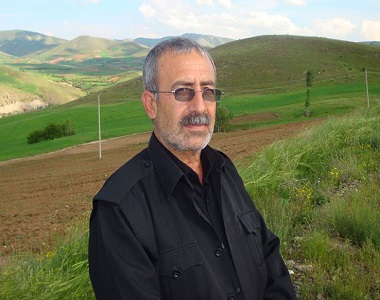 HRANA News Agency – Mahmoud Salehi, labor activist, was sentenced to 9 years imprisonment.
According to the report of Human Rights Activists News Agency in Iran (HRANA), 9 years imprisonment sentence was issued to Mahmoud Salehi, while he is in a condition that he must go to the hospital two times a week, and couple of hours each time to get medical treatment, at Saghez hospital.
He is charged with participating in "In opposition groups and propaganda against the regime".
According to his relatives, the reason of Mahmoud Salehi's severe kidney disease is the ban on getting treatment and kidney medication, during the time he was detained in May.
Mahmoud Salehi himself has written in his Facebook profile:
"I requested that a copy of the verdict shall be handed to me, but the registrar refused to give the indictment to me, and stated that they do not give a copy of verdict to political prisoners and political prisoners are only notified and if I wanted to make an appeal, I should notify the office within 20 days. Then,  I did not sign the verification and I said; I did not sign it unless they would give me a copy, I am a human and I'm not like fall  leaves, when the court sentenced me to nine years imprisonment, they should provide me with a copy of the verdict, so that I can make an appeal against it".
"I talked to the clerk but every time he said it was the law, and I said I would not accept it as a law and after some time the clerk told me that I signed the paper and I would give a copy of the verdict to you, based on what he said, I signed the verdict, but the clerk did not give me that, it means he did tricks on me".
Mahmoud Salehi, a labor activist and member of the Coordinating Committee to Help Form Workers' Organization, has a record of numerous arrests and imprisonment. He was arrested for the last time, on Tuesday, 28th April, on the eve of the International Labour Day, by the security forces at his home, and after more than a month detention, he was released on the bail while he was in a very poor physical condition.