Monthly Report – An Overview of the Human Rights Situation in Iran for Tir 1396 Iranian Calendar (22 June 2017 – 22 July 2017 Gregorian calendar)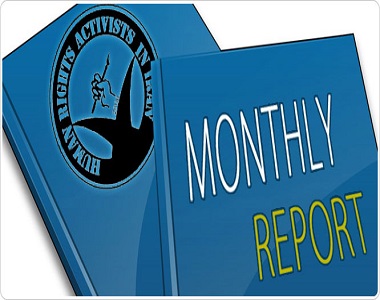 HRANA News Agency – The Department of Statistics and Publications of the Human Rights Activists in Iran (HRAI) has published the following monthly report for the Iranian calendar Month of Tir (22nd June-22nd July) on the human rights situation in Iran. This report cannot perfectly and comprehensively reflect the details of human rights concerns in Iran due to the limitation and bans on independent human rights organizations and their activities in Iran.
It should be noted that in addition to the monthly reports, the Department of Statistics and Publication of the Human Rights Activists in Iran (HRAI) publishes a more comprehensive and analytical annual report on human rights in Iran at the end of each calendar year.
Summery:
In Tir 1396 (Iranian Calendar), The systematic violation of human rights in Iran continued with exceeding 60 executions, repeated sexual harassment of children, numerous attempts of suicide amongst teenagers, multiple sexual harassment and murder of women, extensive arrests especially amongst religion and ethnic minorities, constant violation of freedom of expression, workers and union protests across the country especially concerned with wage arrears. This report has been written based on information that their authenticity has been verified.
Execution
Execution is Still of the most important examples of violation of the right to life, in Iran. in the month of Tir 1369 Numerous executions took place in prisons across the country, most of these executions were connected to drug related charges. Meanwhile the Iranian parliament was ratifying reforms and reduction to the death penalty amendment, this hurry to implement executions startled all. The number of executions carried out in Tir 1396 Exceeded 60 executions, quadrupling compared to its previous month. Among these executions, there has been several cases of mass executions including: execution of 4 prisoners in the central Isfahan Prison, 4 prisoners executed in Central Zahedan, 4 prisoners executed in Central Urumie Prison and at least 7 prisoners were executed in Rajai Shahr Prison of Karaj. Also, worth to mention the number of death sentences issued in Azar exceeds 15, and two of the implemented executions were carried out in public.
Freedom of Thought and Expression 
The incident of a cleric "enjoining good" in the subway left 3 people dead and injured, is of the most obvious cases of the violation of the right to freedom of thought and expression in this month. Experts believe "enjoining good" is in fact interfering in the personal life of individuals that promotes and ensures the prevalence of lawlessness and violence in the society. The arrest of 27 students and teachers of the "inter-universal mysticism" group in Mashhad is another example of the violations of the right to the freedom of thought and expression in this month. Alborz Police's plan for encountering people with incorrect hijab in Challoos road, also the plan for 8 hours mandatory classes for those convicted with "incorrect hijab" are of examples of violation of the human rights' concerned with freedom of thought and expression specifically regarding "mandatory hijab". The following are clear examples of cases of violation of the right to freedom of expression in media and social media during this month: Trial and sentencing to lashes and prison for a reporter from Gilan. The summon of a journalist from Saghez to the revolutionary court for political charges. Conviction of the head of ISNA News Agency and conviction of the two news papers "Bani Film" and "Shoroo" in the Press Court. Meanwhile the case of telegram Channel Managers is still unclear considering they have been prevented from meeting with their lawyers, while their attorney announced their hunger strike the judiciary's speaker stated that is a rumor.
There have been various mass arrests in this month including arrest of 50 people in Kermanshah, 33 in Ahwaz, 3 in Mahabad and 12people in Ghale Babak.
Salah el-din Khadiv, reformist Activist from Mahabad, was arrested in this month. also, another report announced that Isa Saharkhiz has been sentenced to 6 months of imprisonment.
Religious and Ethnic Minorities
Iran continued to ignore the rights of the religious and ethnic minorities in this month. the violation of the right to freedom of religion is apparent in cases of violation of the rights of Christian citizens and their sentencings. For instance, 40 years of imprisonment for 4 Christians, 25 years of imprisonment for 2 Christian converts, 40 years of imprisonment for a NadarKhani Priest and 3 Christian converts, and 2 years of imprisonment for a priest and a Christian convert.
The following are cases of the violation of the rights of Bahai' Citizens in this month: 2 Bahai' Citizens arrested in Gorgan. 6 Bahai' citizens arrested in Kashan, Gorgan and Shiraz. And arrest of another person in Gorgan.
The Iranian Sunni community was under intense pressure this month. Extensive arrests and discrimination in distinct parts of the country have caused dissatisfaction and insecurity among this religious minority. The following are of the most apparent examples of these cases; Arrest of one of the students of Molana Gergij, preventing the release of Mullah Reza despite serving his 6 months prison term, Molavi Fazeli summoned to the court and Travel ban for Molavi AbdolMajid Moradzehi, Kak Hassan Amini Summoned and tried in court, and Sheikh Mola Nisi, an Arab Sheikh, Summoned to Ahvaz intelligence.
Regarding the Ethnic Minorities, there has been serious clashes between members of the Kurdish Komala Party and the Iranian Revolutionary Guards in Sanandaj which resulted in 3 members of the party dead and one while injured arrested, the name of the arrested member is Ramin Hossein Panahi. After this incident 5 relatives of the deceased and 1 relative of Mr. Panahi were arrested. Another case regarding ethnic minorities is the violent arrest of 12 Azari/Turk activists including an eleven-year-old child during the Babak Khoramdins anniversary at Ghale Babak in Kaleybar City. Worth mentioning that Hamed Allahverdi-pour Turk Activist was summoned to Court in this month.
There also has been reports of the arrest of Ahmad Moradi a Gonabadi Dervish.
Prisoners Rights
In this month, prisoners across Iranian Prisons continued to be widely subjected to violation of their human rights. One of the most reported violations of prisoner's rights is lack of proper medical care. These reports include; Arash Sadeghi beging Transferred to Hospital and returned to prison without receiving sufficient medical care, a Baloch Prisoner that had a heart attack did not receive any medical care and was transferred to hospital after 33 days from the heart attack, the head of Evin Prison prevented the transfer of Ali Shariati and Atena Daemi to the hospital, continuation of prevention from receiving medical care for Amin Abdollahi.
Among the reports regarding the prisoners under hunger strike the most important report was Habib Sasanian refraining from attending his charges hearing because of his objection of this hearing which had taken place without any prior notice to him or his lawyer. Siamak Mirzai, Nima KEshvari and Saeed Shirzad ended their hunger strike while Mr. Keshvari was transferred to solitary Confinement and Saeed shirzad was deprived of his right to visits after this hunger strike. Ali ahmadnia, Seyed mojtaba Bagheri, Sobhan Jafaritash, Jaavd Jamshidi, Nima Keshvari, Saeed Naghdi, 6 of the admins of telegram groups in support of the government, in protest of their long arrest and lack of access to Lawyer have been on hunger strike since 19 June 2017, meanwhile the interrogator refuses their lawyer.
With the warm season, prisoners struggle with sanitary and water shortage intensifies in prisons. Prisoners in Zahedan and Ghezalhesar do not have access to enough water and are facing water rationing, this water shortage has resulted in prevalence of contagious diseases and deteriorating sanitary in the prison atmosphere. The prisoners of Central Uremia Prison Warm their bathing water under the sun. and of clear cases of the violation of prisoner's right is the scorning and humiliation of 8 prisoners who were roamed around Pakdasht City.
Children
The reports of this month regarding children made people feel highly indignant. Most of these reports were of sexual and physical abuses of young children, among these reports the physical abuse and murder of 7-year-old Atena Aslani from Pars Abad was of the most shocking reports.  Also, the report of Kimia, 7-year-old Girl, being rapped more than 70 times by her step-father. And the report of a grandfather sexually abusing his granddaughter received special attention and angered the people (specially in social media) for not giving proper sexual education to children; Majid Ghannad spoke about the need to educate children about sexual safety in the media.
other than sexual abuse of children there has been various reports of teenagers committing suicides in this month, these reports included teenage suicides in Ahvaz, Lahijan, Gachsar, Gorgan, Neishabour, Babol, Saghez, and an attempt to suicide by a 14-year-old boy in Tehran. According to the head of the Forensic department, suicide among adolescents under 18 has had an increase of 7.5 percent in Iran.
Other cases related to children' rights included, a report of child being physically abuse in Mashhad where the step father had burn his step son's body with lighter. There was report of child abandonment in Minoudasht, where Sheida, a minor girl, was kicked out of her house by her parents; By the order of the judicial authorities, Sheida was tarnsfered to Behzisti (The states welfare organization of Iran).
Also In this month, the Legal and Judicial Commission of the Parliament has been reviewing the bills on supporting children and Adolescents.
Women
The most striking examples of violations of women's rights this month are the numerous instances of rape and murder. The Report of the rape of an adolescent girl in Abadan by five young men in front of her fiancé's eyes made headlines.
There has been various reports of Murder and Rape including the murder of a 17-year-old girl from suburbs of Behbahan who was murdered by her brother for not accepting a forced marriage. Murder of a women in Minoudasht by the brother who was not happy with her marriage. Murder of a women who fell from a rooftop in Hesar Garmkhan of Bojnourd to avoid being raped by two men. In two separate cases yet similar scenarios two brothers murdered their sisters in Abadan. The case of a terminally ill young women who after going missing was sexually harassed is still under review.
Other cases of violation of Women's rights include discrimination in the sport of body building; the head of body building federation in Iran announced that female body builders are not allowed to compete in any competitions.
Among the disappointing news on women's rights, Regarding the Mandatory Hijab Laws, the Vice President for Women and Family Affairs stated: this bill needs serious revisions and its not perfect and up to date.
Health and Environment
In the field of health and environmental protection, there were numerous reports mainly involving Draught, Heat and Haze. Unprecedented heat has become widespread in the southern provinces of the country, especially in the Khuzestan province, so that So that in the suburbs of Abadan marginalized people only have sludge water to use, And Khuzestan's governor stated in the news that people in some regions of Khuzestan do not have water for bathing. Draught in the country has become so concerning that the Deputy Director of the Water Planning of the Ministry of Energy, said "Iran's water has reached supercritical conditions, the issue of water has reached the National Security Council and the Water Security Committee has been formed in this council.
Also, Civil Society Activists have been highly concerned with the condition of draught in the Urmia Lake and an increase in ultraviolet radiation by a factor of 4, which its earliest is consequences is cataracts; people created a human chain around the Urmia Lake in this month, which led to arrest and physical harassment of some of them.  Also, this month, unfortunately, 526 hectares of rangelands and tropical timber forests of Andimeshk and 30 hectares of rangelands and oak forests in Sarpuol-Zahab burnt in forest fire.
In the good news and to restore the Hamoon International Wetlands, there has been straw planting in this wetland. Also, regarding dealing with guilds and polluting centers, unauthorized mines around the historic City of Tus were shot down and trucks were banned from passing in this area. 8 shops that were polluting the environment in region 19 of Tehran were shot down.
The dumping of more than 2,000 times the limit for poison in a polluting company's soil in the Golestan province, which, with the appearances of the environmental authorities of the province, to clean the area without any regard to environmental requirements, is very concerning. also about the use of poisons, the Deputy president of the Parliament's Healthcare Committee said, the use of more than 3 to 4 times the non-standard pesticides in agricultural products has increased the incidence of diseases such as cancer. It should be noted that relating to the support of the Park and forest Rangers, the parliament urged to submit the bill for their protection and support as soon as possible.
Workers and Unions
The news of the workers and unions this month, like other months, was full of reports of death, injury and legal and union gatherings of workers in various locations. Unfortunately, these reports include, death of at least 30 workers, more than 60 repots of injury at work; of the most important report of injury at work is the report of poisoning of 20 workers by sulfuric gasses such as SO22 at the Sulfur warehouse in Isfahan refinery.
At least 20 workers and union protests have taken place around the country, one of the most notable protests in this month is the protest of workers of sugarcane complex of HaftTape, which led to the support of an international federation for food industry, farming and hospitality workers. In another case the project workers of Yadegare Imam highway were beaten by the municipally forces. This is not the first time that municipally forces use physical force to reach their goal.
By the beginning of the heat season, and by none existing specific laws regarding heat and working conditions and limitations in heat, workers are of the most vulnerable and victims of the heat in Ahvaz and other warm parts of the country.
Cultural
human rights violations related to cultural issues this month included the demolition of part of a historic monument dating back to the Sassanid era, more than a thousand years ago, with an area of more than one hectare in Gilan-e Gharb by machinery.
Also a known Rapper, Amirhossein Maghsoodloo aka Tattaloo, left comments on the hijab of Atena, a minor who was brutally sexually abused and murdered, Sparked public outrage in cyberspace; following his comments the family of the victim asked other art figures to support them in filing complain against Tattaloo who has stated, the one in fault for the murder of this child is her parents who did not wear her hijab.
Other news included the opposition of the Music Office of the Ministry of Culture and Islamic Guidance with the performance of "Hamid Adef" in the new play of Siamak Safari. The movie "Atomic Heart" was pulled off the screens just with one phone call and all its shows were cancelled. Also, the movie "Delighted" was sized and banned from showing. It should be noted that the Revolutionary Guards have abandoned their complaint against the critic poet Ilami.
Insecurity and military and judicial violence against citizens
In the pas month, one burglar of a judge's house was sentenced to amputation of his hand. There were 3 acid attacks that resulted in injuring 4 people and killing a woman in Mashhad. The mine blast also resulted in injuring a citizen.
At least 11 "Koulbar" were injured and 5 dead; and even 25 of Koulbar horses were shot and died by the military forces. Among the news regarding Koulbars, the report on Younes Feyzi, a Koulbar who only has one leg, and the report regarding a young elite in Marivan who is forced to work as a Koulbar received special attention. Also, this month, with the presence of high officials, the Minister of Labor and Social Welfare will unveil the Koulbar Social Security Insurance.
In addition to multiple convictions, a prisoner from Malayer was flogged in public. Also, 7 prisoners in Qouchan were sentenced to 350 lashes in public.
Other cases of violation of rights of citizens included, arrest of 110 people in a mixed private party in Shahname of Mashhad, and closure of a restaurant in Robatkarim for allowing music and dance.
End:
1-The reports in the spot light
In this section of the monthly report, the most controversial cases of violations of human rights and the news that received the most attention of the public are highlighted. The special attention given to following reports does not indicate that the content of these reports is of greater violation of human rights.
In this month, the news regarding children's Rights received the most attention from the public. The kidnapping and murder of Tena Aslani, 7-year-old girl from Parsabad was at the forefront of the news. Also, other reports regarding children that received special attention from public includes, sexual harassment and rape of a minor by her grandfather in Darvazeghar, and the report of Sheida being kicked out of house by her parents. Another news that received a lot of attention was Atena aslani's Family filing a complain about a known Rapper, Amir MAghsoudloo aka Tattaloo, who has stated the parents of this child are in fault for her murder, because they did not wear her hijab.
other most viewed news includes, the incident of a cleric "enjoining good" in the subway left 3 people dead and injured, and the clash in Sanandaj that left 3 dead and some of their family members arrested.
Among the news regarding Koulbars, the report on Younes Feyzi, a Koulbar who only has one leg, and the report regarding a young elite in Marivan who is forced to work as a Koulbar received special attention.
The reports in the shadow
Unlike the reports mentioned in the previous section, many human right reports received little or no attention from social media, bloggers, Internet activists, who are considered key contributors of the public opinion. It should be noted that this unintentional or intentional negligence has results in continuation and further spread of human rights violations in Iran.
Two mass executions in Ghezelhesar Prison, mass arrests around the country, heavy sentences for christen citizens, arrest of Baha'I citizens, summon and pressure of Sunni scholars and even travel ban of some of them, the news of the murder of a young girl by her brother for not accepting forced marriage, news regarding draught and supercritical state of water around the country and also the lack of access to enough water for prisoners in Zahedan and Ghezelhesar, were some of the important news that deserve to receive more attention.