11 Prisoners Executed in Rajai Shahr Prison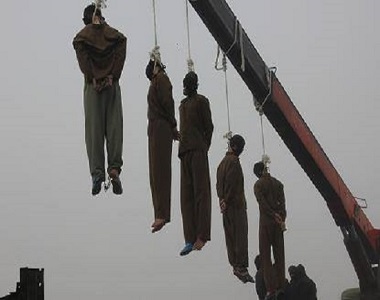 HRANA News Agency – Eleven prisoners (all 22 to 25 years) were hanged in Rajai Shahr prison on charge of murder on May 25, 2016. One of the prisoners whose identity has been verified by the HRANA, was a juvenile offender and was 16 years old at the time of arrest.
According to the report of Human Rights Activists News Agency in Iran (HRANA), a group of 11 persons all from 22 to 25 years old in Rajai Shahr prison who had been transferred to the solitary confinements, were hanged on May 25, 2016.
HRANA has managed to identify 9 of these prisoners as following:
Javad Khorsandi / Murder
Iman Fatemipour / Murder
Hossein Mohammadi / Murder
Masoud Raghedi son of Bakhshayesh / Murder
Mohsen Agha Mohammadi son of Mohammad / Murder
Farhad Bakhshayesh / Murder
Mehdi Rajaee / Murder – was 16 years old at time of arrest
Asghar azizi / Murder
Khosro Robat Dasti / Rape