5 prisoners hanged in Rajai Shahr prison, Karaj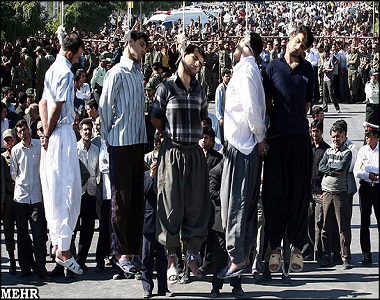 HRANA News Agency- Five prisoners who had been accused of murder were executed by hanging in Rajai Shahr prison's enclosure on Monday, May 19.
According to the report of Human Rights Activists News Agency (HRANA), 8 prisoners who have been accused of murder were transferred to solitary confinements in order to be executed in Rajai Prison, Karaj city, on Sunday 18th May.
Three of them were back to their cells as they took respite from cases' plaintiffs in order to pay blood money and the death penalty was carried out on 5 others.
The executed prisoners were from ward 3, 4 and 7 of Rajai Shahr prison and all of them were charged with intendant murder and convicted to same penalty (execution).
It needs to be mentioned that, Iran's official media and judiciary's public relations office has avoided announcing these executions.