Angels Laughing on Mondays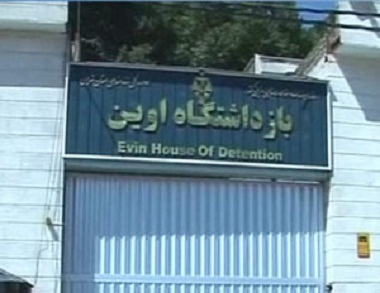 Evin Prison, Tehran, Iran
Dedicated to Niayesh and Shakiba Badaghi and all children whose parents are not by their side at this year's Haft-Sin table.
I was listening to my cellmate's lullabies; he was singing to his daughters, Paria and Zahra.  In harmony with his heartbreaking lullaby, my other cellmate began to sob.  Unconsciously, they made my tears run down too.  It was the second time that he had been arrested.  He was sentenced to one year in prison the first time, but then, he had to stay another ten years.  His only joy and thrill was the fact that his daughters came to visit him on Mondays.
On visiting days, without paying attention to everyone else around them, in front of their parents' eyes and in between the tables and chairs that occupied the visiting room, the children turned summersaults and cartwheels and walked on their hands so that their father could see their progress in gymnastics.
Watching the children tumble around, the father was filled with pride and joy and smiled.  And the mother, while trying to deny her own pain of loneliness and longing, with an innocent face, adoringly watched her husband's joy and her children's fervor.
Having been away from children and school environment for months, I also watched Paria and Zahra attentively and described them to my mother.  This family's visiting moments with each other have become one of the most influential points in time engraved on my mind like an image.
It was as if in a vacuum, in dreams, in heavens, in a place outside this world and in shared interests, they were gathering together with no one around them.  Without noticing the guards, the walls or other prisoners, together they shared their smiles and passions.  I always wished to have known Paria and Zahra's family outside the prison or the visiting hours lasted half an hour more.  When it was time to say goodbye, I also tried not to look at them so that the glorious and everlasting moments of their visits and togetherness would linger in my mind untarnished.  It was as if with every summersault and cartwheel they performed and by living in an imaginary world, these beautiful girls ridiculed their father's surroundings.
Our story of Paria and Zahra's destiny is being written for years and for many generations when every day another Paria and Zahra head to visit their father or when in a few years, a child like "Awa" sings for his fish by the Haft-Sin table, "This year, Daddy is in prison."
We were watching Paria and Zahra's moment of farewell.  While holding their father's hand and smiling, they walked through the meeting hall towards the exit as if they were heading to an amusement park.  I would have liked to hold their hands too and shared their joy.  Before their father said his parting words to Paria and Zahra, I turned my face so that I wouldn't see his teary-eyes, but in the other direction, I witnessed my mother's eyes filled with tears when she prepared herself to leave her child.  I embraced my mother childishly, imitating Paria and Zahra, and when they called us, I couldn't resist looking at them.  Those two angels waved at me; the angels lacking only wings.
Farzad Kamangar
Evin Prison
19 Ordibehesht 1388 [March 10, 2010]