Athena Daemi Transferred To The Clinic Of The Prison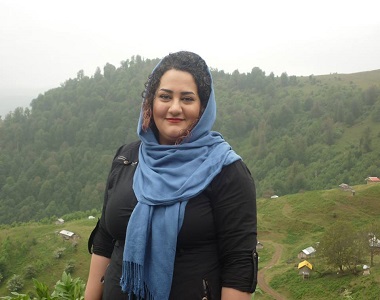 HRANA News Agency – Athena Daemi, imprisoned civil activist, has been transferred to the clinic of Evin prison for two times because of the deteriorating physical condition and high blood pressure and was returned to the ward, after some efforts to lower her blood pressure.
According to the report of Human Rights Activists News Agency in Iran (HRANA), following high blood pressure, irregular heartbeat and heart palpitations and shortness of breath caused by that, Athena Daemi was transferred to the clinic of Evin prison, as an emergency patient, and after being taken under tongue pearl, was returned to the ward. After the deterioration of her condition and to treat her problem, this civil activist was transferred to the clinic again, and got a sedative injection, and then was returned to the ward.
It is said that Athena Daemi's blood pressure was 180 at maximum reading, when she was transferred to the clinic.
Also on Wednesday last week after being sent to the dentist, she faced the problem of high blood pressure. Her family has said that, this civil activist is still suffering from the problem of double vision and headaches.
It should be noted that the case of this civil activist, is still pending and although her case has been referred to Branch 36 of the Appeal Court, due to a shortage of "Judge", this case has not been tried yet.
Despite the request for furlough, by Athena's family, they were told that due to non-issuance of a final judgment, it was not possible to send her on furlough, yet.
It should be noted that since her arrest her family has plead for help from law enforcement organizations and departments, judicial and executive authorities, and Iranian parliament members, the Vice President and the Islamic Human Rights Commission, but so far has not received any kind of help.
Atena Daemi, 27, was arrested on 21st October 2014 and was held for 86 days in solitary confinement in ward 2-A, under investigation. Ms. Daemi on 18th of January 2015 was transferred to women's ward of Evin prison and after several postponement of the hearing finally on 14th of March 2016, in a trial presided over by Judge Moghiseh, the judge of Branch 28 of Tehran Revolutionary Court, in the presence of her lawyer and other defendants in this case, named Omid Ali Shenas, Asu Rostami and Ali Noori, she was sentenced to 14 years imprisonment because of her peaceful civil activities and on the charges of propaganda against the regime, gathering and collusion against national security, insulting the leader, insulting the founder of the Islamic Republic of Iran and concealing evidence of the crime.
The decision has been sent to Branch 36 of the Appeals Court but no decision has been announced by the court yet.