Concerns Rise about Putting New Pressure on Sunni Prisoners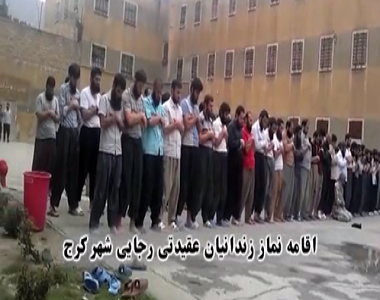 HRANA News Agency – Sunni prisoners of Rajaei Shahr are being kept in very bad conditions. However, these conditions could become even worse if they would be transferred to their previous hall and new pressures could be imposed on them.
According to the report of Human Rights Activists News Agency (HRANA), Sunni prisoners in hall number 21 of section 7 in Rajaei Shahr prison of Karaj, are being kept in very bad conditions. However, there are concerns that they would be transferred to hall number 10 of ward number 4, which is the place that the executed prisoners were being kept, and consequently they would face new level of pressure by security authorities.
Currently these prisoners have a lot of problems including limited visits, phone calls, shopping, heating and access to heated water and other issues like deprivation from furlough, parole, transfer to their residency location's prison, and generally serving their sentences in exile.
It is also reported that these prisoners have problems in visiting their families. Their families have to travel in cold or hot weather long distances from other provinces and towns, for only half an hour of cabin visit. It is said that humiliation and harassment from wardens towards the families is common place which makes it more difficult and/or unbearable.
According to HRANA's sources, after they were transferred to the current ward, the former hall has been well equipped with new security measure. According to these reports, some two-layered metal doors are installed between the yard and the ward's door (hall number 10 of ward number 4) and halls 11 and 12 which are located downstairs and prisoners could be cut-out from the outside. Besides, windows are equipped with metal fences. Monitoring is so high that two CCTV cameras are installed in each room. Hall, kitchen, bathroom, and even toilets also have security cameras.
HRANA previously had reported that currently 50 prisoners are being kept in hall number 21 of section 7, in Rajaei Shahr prison who face hard conditions by the start of cold season.
The heating system which is supposed to be a radiator is just some pipes that the hot water would pass through. However, due to incomplete running of the system, it has no effect in the temperature of the hall. This problem alongside the old doors and windows adds to the hardships the prisoners are facing.
On other hand, authorities do not allow the prisoners to buy heating equipment, and previously the prison guard has seized two electric heaters of the prisoners.
Need to be mentioned, there are few sick prisoners who are being kept in this hall, who are suffering from kidney, disc and pelvic diseases.
Need to be mentioned, on the Black Monday in Rajaei Shahr prison, in an unprecedented raid of black wearing prison guards, 37 death row Sunni prisoners in ward number 10, were transferred to solitary confinements with handcuffs, shackles, and blind folded under heavy security conditions. According to the judiciary at least 20 prisoners were executed, this number is rising in unofficial sources to at least 25.
An informed source told HRANA's reporter, "After the execution of these 25 people, other prisoners were protesting to these executions, and keeping 12 other prisoners in solitary confinements. Few days after the strike, intelligence service and prison guards which were transferred from Ghezelhesar prison, took all of these prisoners, who were weak due to their strike, to yard and kept them for about 7 hours and searched the ward and seized whatever they could, from radiator, phone card, hands-free, Quran references and harassed them a lot".