Five citizens killed in police shooting – Pictorial report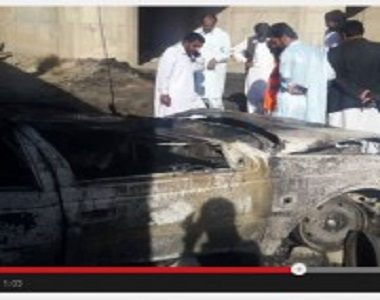 HRANA News Agency – In two separate incidents, three men were killed, a baby and a woman got injured when Iran Police opened fire on them without warning.
At the first incident, "Abdollah Moradzehi" a citizen of Khash district was travelling back from Zahedan  with his family – his wife and two children- when they were shot upon by police without initial warning. The shooting was done by Second Lieutenant "Mohsen Bandohi" who is suffering from mental and psychological problems and based on the report of Forensic pathology he was not mentally fit to carry weapons. The shooting killed Abdollah Moradzehi on the spot and seriously injured his wife and his child whom were admitted to a hospital.
At the second incident, which took place on Thursday noon, 11 September , 2014 at Dehbandan Police Post ( a rural district  of Nukabad district in Khash county), police officers opened fire on a Peugeot 405 passengers without a warning and any acceptable reason. The shooting injured the driver and caused the vehicle to swerve and subsequently fell off a bridge. The fall resulted in explosion of the vehicle and both passengers were burned to death.
The video and pictures of these two incidents are in the following:
Five citizens killed in police shooting – video footage