Marjan Davari; Over 10 Months of Detention in Evin Prison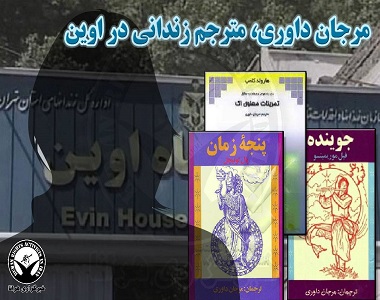 HRANA News Agency – Marjan Davari, 50-year-old scholar and translator was arrested by security forces and is kept in the women's ward of Evin prison. Despite over 10 months of detention, her hearing has not been held and the charges against her are not known yet.
According to the report of Human Rights Activists News Agency in Iran (HRANA), Marjan Davari was born in Tehran on April 24, 1966 and completed her primary education in England and in Iran in the International Gifted School of Parthian. She got an English diploma at the age of thirteen. She continued her studies in Al- Zahra University with very good grades in the field of graphics and drawings as well as research and translations in the esoteric science and ontology of East and West.
Her published translated works include Talons of Time of Paul Twitchell, The Seeker of Phil Morimitsu and The Spiritual Exercises of ECK of Harold Klemp.
A close source to the imprisoned interpreter in an interview with HRANA's reporter told: "On October 12, 2015, she was arrested after being sued the directors of Rahe Marefat Institute, and after more than 10 months she still remains in a state of temporary detention."
The source told there were no specific charges against Ms. Davari and also added: "Her collected works and writings were kept in an archive to be available for her fans for free but have been confiscated by the security forces. She knows herself as a free researcher in the field of esoteric science and metaphysics. "
This source told at the end: "She has been studying and translating the esoteric and theological sciences and the illuminati for many years and has been working as a researcher at the Institute for Metaphysical Studies and Research of Rahe Maefat."