Mistreatment of Sunni Prisoners at Prison Visits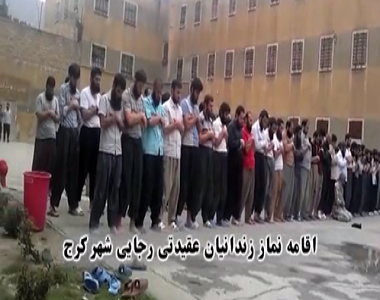 HRANA News Agency – Sunni prisoners in Rajai Shahr prison who have been deported from different areas of the country to the prison, are discriminated against and mistreated at the time of prison visits. It has been reported that the inspection of families is being done violently especially for young children which scared them.
According to the report of Human Rights Activists News Agency (HRANA), Sunni prisoners in hall 21 of ward 7 of Rajai Shahr prison, are being discriminated against and mistreated at the time prison visits.
A close source to the families of the prisoners told HRANA's reporter, "The families come from cities far from Karaj like the cities of Kurdistan and West Azerbaijan provinces, to meet their loved ones which costs them too much. They meet the prisoner in a very little time in about half an hour and behind the short wall which is embedded in center of hall. There are no such restrictions for the other prisoners. They sit around a table."
The source added, "On Wednesday, the day of visit, families were inspected offensively. The officers and soldiers even had separated children from their mothers and had inspected small children in the other room which caused them panic. They insulted prisoners and families in front of each other."
The source added, "Mohammad Mardani, prison administration deals with these issues himself. Sunni prisoners in Rajai Shahr prison often send repeated letters of protest to Mr. Mardani, but these have not been addressed and just caused deliberate harassment for themselves and their families."
It should be noted that currently about 50 Sunni prisoners are held in Hall 21 of ward 7 in Rajai Shahr prison in Karaj.
Iranian government often accuses them of having links with fundamentalist or Salafist groups, however, the prisoners reject the charges and announced the reasons for their arrest was related to religious activities and promoting their own religious views.