Prison Guards Broke the Hands and Legs of a Prisoner in Rajai Shahr Prison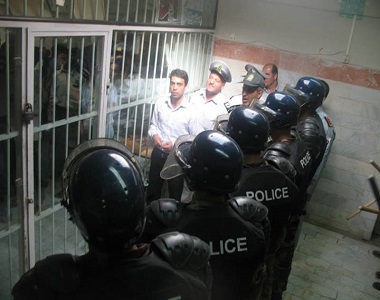 HRANA News Agency – The guards of Rajai Shahr prison in Karaj have beaten a prisoner who informed other prisoners about the presence and intrusive inspection of prison guards by nosing. It is reported that in addition to apparent injury, his hands and feet have probably been broken. He was left in the middle of the prison hall in the same situation. Prison officials said that he was not allowed to go to the health clinic of prison and no one has the right to help him.
According to the report of Human Rights Activists News Agency in Iran (HRANA), the guards of Rajai Shahr prison in Karaj went to ward 4, Hall 11 of the prison in order to inspect it at 6.30 am on Thursday, December 14, 2017. These forces had returned to the same place and for this purpose at the night.
While the prison authorities wanted to enter the ward unexpectedly and begin the inspection, one of the prisoners who was accidentally walking in the hall and observed the arrival of the guard forces informed other prisoners who were asleep about the presence of these forces and the intrusive inspection.
As noted, the inspection of the prison is not in contradiction with the current laws, but contrary to the explicit provision of the law, the prison guard forces severely hurt this prisoner whose identity is Ahmad Reyhani.
It has been reported that in addition to apparent injury, his left ankle have probably also been broken.
After inspection and beating Ahmad Reyhani, Prison Guards left him in the middle of the prison hall and in front of other prisoners and declared that he was not entitled to use medical treatment and any prisoner who would help him would be punished.
Ahmad Reyhani is charged with robbery and kidnapping. Mr. Reyhani who has been imprisoned since 3 years ago, is now in ward 4, hall 11 in Rajai Shahr prison in Karaj.