Qarchak Women's Prison: Iran's Largest Women's Prison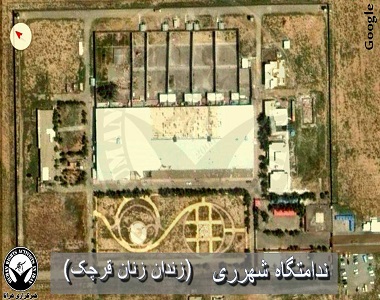 HRANA News Agency – Shahr-e Rey Prison which is known as "Qarchak Women's Prison" and "women's Kahrizak", is located on the Tehran-Varamin Highway before Qarchak city. The conditions of this prison are unbearable for prisoners, conditions that include the Qarchak women prison conditions are unbearable for the prisoners, conditions that include the "outbreak of dangerous diseases". These conditions are caused by the geographical location, small space, and high population, shortage of water and sanitation facilities, violence and lack of segregation of prisoners.
According to the report of Human Rights Activists News Agency in Iran (HRANA), Qarchak Women's Prison is made of 7 warehouse buildings that is holding approximately 2000 women and some children; this number varies in different seasons.
This buildings have previously been used by the State Welfare Organization (Behzisti) as a "Drug Rehabilitation Center"; according to local people this place has been known for its "bad reputation" ever since. After years this building was given to the judiciary and since has been converted to a women's prison.
In each building of this Prison 200 to 300 female prisoners are held together, disregarding the rules of segregation of prisoners by age and crime. While emphasizing on the lack of any improvement of conditions of the Shahr-e Rey Prison in the past years, and in regards to the current condition and numerous problems that the prisoners face a source close to the prisoners of this Prison told HRANA: "In order to stop prisoners from practicing their right to objection and defiance, the prison officials threaten the prisoners that they will be sent to solitary confinements along with the prisoners whom have mental health problems. Intense fights to the point of killing one another and prison officials staying back and not interfering in the fights are of the many serious problems of notorious Qarchak Prison."
They continued: "Women are exposed to variety of pressures and sexual abuses in there. Inappropriate behaviours of the prison guards towards the prisoners includes insults, humiliation, disrespect and at times physical aggression, and have had malicious psychological effects on the prisoners. Many of the prisoners that need mental health support are not transferred to mental health care facilities and cause many problems for other prisoners, this is one of the issues that sometimes leads to fights, rapes and murders in the prison."
At the end they added: "protesting the food conditions or any other protest and objections, leads to being transferred to solitary confinements which are in miserable conditions. Shortage of bathrooms, unsanitary conditions and over populated small cells lead to assaults and abuses. Placing mentally ill prisoners in solitary confinement with another prisoner and using them as a violent factor to torture other prisoners in cases have even led to rapes and murders."
Hygiene and sanitation
In each section there are 4 showers and washrooms which have hot water only for one hour per day; this is while the regional water is salty and this has led to numerous skin problems in the prison.
Health care and medication in Qarchak Women's Prison are below the required standards; medicine shortage, refraining from sending prisoners to the prison clinic or health centers outside of the prison have caused formation of "Medicine Mafia" in the prison, and sick prisoners are forced to pay expensive amounts in order to be able to get basic needed medications (that is if it is available in the prison).
Failure to care for patience and shortage of medication in this prison has contributed to the spread of dangerous contagious diseases such as "AIDS and Hepatitis".
In October 2013, head of the clinic of the Shahr-e Rey prison, while recognizing that there are some prisoners with AIDS in this prison, have said: "we don't screen for HIV in the Prison; because it is against the law and would costs us a lot; the prisoner should notify us herself that she is HIV-positive and this is how we gather our statistics."
Food and diet
The very basic problems of food and diet that are noticeable is firstly the lack of sufficient food for the prisoners and secondly the repetitiveness of the food which normally includes boiled potatoes, pasta and bread. This repetitive food menu cause's vitamin and nutrition deficiency especially for prisoners with long sentences.
Geographical location, space and population
Shahr-e Rey Prison is located on a 1500 cubic meter lot, one fourth of this area is allocated to the warehouse buildings where prisoners live and the administrative section.
Based on the female prisoners of this prison, the warehouse buildings lack any room and there is only one big space where the remaining beds (about 600) from the time the building belonged to Behzisti, are placed. Taking this into account from the approximate 2000 prisoners, 1400 of them are sleeping on the floors.
Each warehouse has a yard that about 20 people could fit in.
The surrounding areas of the Qarchak Prison of Varamin is Marshes and Swamps and therefore insects and bugs disturb prisoners especially in the warms seasons; the authorities have not taken any measures in this regard.
In conclusion it should be noted, the state media have always tried to show an acceptable and standard picture of the Prisons in Iran, that includes the Women's Prison of Shahr-e Rey. Based on the testimony of many of the released prisoners of this prison, what has been shown to the journalists and official investigators of this prison which at times has been portrait on the media, is the "Consulting Ward" known between prisoners as the "Ghalibaf". This ward's capacity is only 150 people and prisoners with sentences shorter than 5 years could enter this ward by paying a fee. This ward has clean washrooms, library, social work office, clinic and etc. however many of these facilities are only in use at the time of visits.