A Report about the Situation of Rajai Shahr Prison in Karaj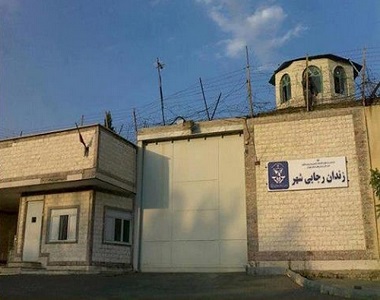 Rajai-Shahr Prison in Karaj, Tehran, Iran
HRANA News Agency – Rajai Shahr prison in Karaj where has been classified as whereabouts of inmates with violent crimes, has been used as an exile area of political and non-political prisoners for many years by the Iranian government. In recent years, numerous reports of illegal behavior of officials of this prison have been published by human rights organizations.
According to the report of Human Rights Activists News Agency in Iran (HRANA), for many years, Rajai Shahr prison in Karaj has become the local for exile to put pressure on political prisoners or non-political prisoners. Rajai Shahr prison in Karaj is the whereabouts of a large number of political prisoners such as Majid Asadi, Ahmad Karimi, Arash Sadeghi, Navid Khanjani and Hamid Babaei and so on. That is why the continuous monitoring of this prison is too important.
Rajai Shahr prison in Karaj has 10 wards and each ward has three halls and its own yard. Usually political prisoners are held in hall 10 and Sunni religious prisoners at another place.
The rooms of Rajai Shahr prison in Karaj are 6 m2, and there are two prisoners in a room and there are 4 to 5 prisoners detained in larger rooms. Often, ward 4, hall 11 is the whereabouts of the prisoners with financial crimes, however, suicide has been reported in this ward more than other wards for some unknown reasons.
An old prisoner with the confidential identity, who is detained in ward 7 of the prison, told HRANA's reporter about the situation of various prison wards that ward 10 has two floors, jail suites are located in this ward and is the whereabouts of detainees who were sentenced to solitary confinement. There are Sunni prisoners at the end of ward 7, hall 12.
The source added that "the head of prison is "Ziaiee" who is a former military man and has experience in the police force, the head of protection of prison is "Seyedsadat" and the head of inspection is "Darzi" also head of guard is "Bagheri" who is known as the Hangman among the prisoners, this person throws the rope to the neck of prisoners on death row, prison interior manager is "Ghobadi" who is known as the executive director, he harasses the detainees and also opens up the way of suicide and strike in order to put more pressure on prisoners and also has the power to influence prison personnel. If he slips with someone, he can transfer him to the worst places in the prison."
According to field research of HRANA, the conditions of this prison have been described more precarious. In this regarding, the lack of separation of prisoners based on the crimes and the age of the prisoners, sending of teenager detainees to the ward of dangerous prisoners and the threat of rape can be noted.
Another prisoner told HRANA by confirming the previous statements that "they transferred thirty individuals to solitary to execute them in the month of Muharram when the execution is not custom, as well as they transfer teenager detainees to the ward of adults and keep them in extreme conditions, to the extent that the prisoner is forced to commit suicide."
The prisoner told as a witness to the rape inside the prison, "we all had a history of suicide in the past because of sexual harassment," he explains that they raped a prisoner born in the 90th by force and beatings and the person commits suicide because of severity of shame.
The prisoner explains how a prisoner who has been sentenced to death on charge of Muharebeh and was raped, did not complaine due to his fear of being killed in prison.
Another prisoner told HRANA's reporter about another young prisoner that "Abbas Taheri, son of Gholam Reza, born in 1995, charged with murder, was held in ward 7, hall 19. However, they transferred Abbas to ward 1, hall 1 as punishment, he might commit suicide or be sexually assaulted in this dangerous ward. He had been sexually assaulted for several times, and we had begged to stop this. He is now held in this ward for about a month."
Also, the environment of ward 7 is very inappropriate, the prisoners of this ward often have certain diseases, such as hepatitis, AIDS, tuberculosis etc. and self-mutilation with a common razor and sex are normal this ward.
On the other hand, it is reported that Rajai Shahr Prison's stores lack rich food like fruits and vegetables, but on the contrary, drugs are found in abundance, according to prisoners, heroin, glass and opium can be founded with the minimum price of 4 million IRR and up to the maximum of 10 million IRR per grams. Old prisoners claim that these drugs are mainly supplied by the personnel themselves from outside the prison.
The latest witness who was interviewed in this field report, told about prison staffing that "they break all of our personal belongings during inspections, if the prisoner acts in contravention of the rules, they will beat the prisoner by baton and hold him in solitary for one week."
It should be noted, the number of smokers is very high, and cigarettes such as Winston are sold for 600 thousand IRR, Kent for 450 thousand IRR and Bahman and Monte Carlo for 200 thousand IRR per a box.
The prisoners who were interviewed in the report and are kept in various wards of this large prison, told HRANA that the prison clinic has no stitch yarns, it can help prisoners just through wound dressing and prisoners are forced to be transferred to Imam Khomeini Hospital in Tehran during the clashes and self-immolations, which is at least an hour away from prison, and this distance can cause the death of the injured person.
One of the prisoners added, "we have dentistry, but we do not have radiology. The clinic is located in front of ward 1 and is a two-floor building located on the mother corridor, the lower floor of clinic which is the whereabouts of the prisoners released from the hospital, is a very dirty and polluted area. The clinic has 10 personnel and their behavior is violent to inmates."
It is said, the legal visiting are scheduled to be held until 2PM and each prisoner is kept in quarantine for two days after returning from the legal visiting. The time of the cabin's visit is 20 minutes in Rajai Shahr prison in Karaj and each prisoner can call up to five phone numbers that have been provided to intelligence security before.