A Report about the Status of Bahrooz Alkhani, Death Row Prisoner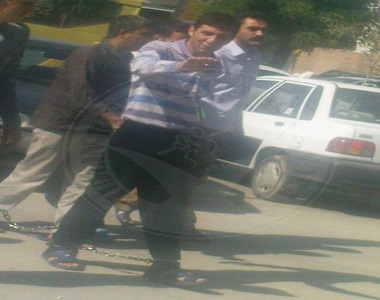 HRANA News Agency – Psychological condition of Behrooz Alkhani, death row prisoner who is imprisoned since 5 years ago has been alarming.
According to the report of Human Rights Activists News Agency in Iran (HRANA), Behrooz Alkhani, who has been alleged to connection with PJAK and participation in assassination of Khoy's prosecutor and has been sentenced to death, is now facing serious problems in prison of Ormia and judicial authorities refrain from sending him to hospital.
A close relative of Behrooz Alkhani stated that the most important request by him and his family at the moment is sending him to a hospital and getting health care: "Due to physical and psychological tortures during detention and execution sentence, he is suffering from psychological problems and depression, and even when his family go to meet him, he is not in a good mood to see them and has told them that 'you do not need to come to visit me.' The prosecutor refrains to send him to hospital because of kind of his charges, but this is not right, to deprive him from hospital and treatment until he die in prison, just because he has been sentenced to death."
Behrooz Alkhani, son of Fars, born in 1985, Kurdish resident in Salmas, was arrested by the security forces along with 15 others, on 25th January 2010 in the town of Salmas, on charge of contact with PJAK. After several months, he faced a new charge of his involvement in the murder of Khoy city's prosecutor, and by the branch 1 of the Revolutionary Court in Ormia, presided by judge Chabok, was sentenced to death, on charges of effective cooperation with PJAK, and murder of Khoy city's prosecutor.
Behrooz Alkhani's case was referred to the Supreme Court due to his appeal, and the Supreme Court did not upheld the verdict that was issued by branch 1 of the Revolutionary Court in Ormia and referred the case to Branch 10 of the Appeal Court and his sentence was confirmed again in this court. Then with his new appeal, his case was sent back to the Supreme Court and the Court has not yet issued a final ruling.
This prisoner, also in a separate case on charge of keeping weapon, was sentenced to 10 years imprisonment. His relatives said that the weapon has not been confiscated by intelligence agents when he was arrested.