Saeed Shirzad Started Serving His 4th Year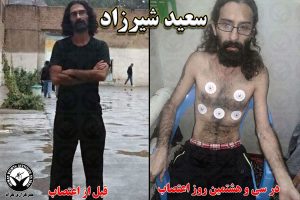 HRANA News Agency – Saeed Shirzad, political prisoner of Rajai Shahr, who had been arrested in his workplace in Tabriz refinery on June 2, 2014, has entered his 4th year of imprisonment in this prison.
According to the report of Human Rights Activists News Agency (HRANA), Saeid Shirzad, political prisoner of ward number 12 of Rajai Shahr prison, who had been arrested in his office in Tabriz refinery and charged with colliding with the intension of disturbing national security on June 2, 2014, has started the 4th year of his imprisonment while his physical condition is bad.
A close source to Saeid Sirzad told HRANA, "Saeed is experiencing severe pain in his back, in a way that he was not able to move for several weeks and even after that he has to use walker. He did not have this problem and it has unprecedented in prison. He was transferred to prison clinic multiple times. Saeid was transferred to the hospital after 2 years that this condition and had an MRI, but the result is not given to him".
Saeed Shirzad, political activist, was arrested on June 2, 2014 on his office in Tabriz refinery and transferred to Evin prison. He was then exiled to Rajai Shahr Prison following his protest and complains about the condition in prison, despite being under temporary arrest and not having court hearing.
Saeed Shirzad was tried in Branch 15 of the Revolutionary Court, presided by Judge Salvati and the presence of his lawyer Amir Salari Davoodi after 15 months in detention on September 12, 2015. He was eventually sentenced to 5 years imprisonment on charge of "gathering and colluding with intention to act against national security" and the verdict was notified to his lawyer on September 16, 2015.
He had been charged due to his civic activities, including meeting with families of political prisoners and reporting of human rights.
Despite the passage of three years since his arrest, the activist is still waiting for the appeal court's verdict and is held in ward 4 of hall 12 of Rajai Shahr prison in Karaj.
It is noteworthy that in the last two years many organizations and political figures and human rights activists have demanded the release of Saeed Shirzad, including the statement of post workers union of Canada, letter of Ms. Barbara Lochbihler, Human Rights Commission of the EU Parliament and the statement of students in Walter Payton Chicago University in America and also Ban Ki-moon, UN Secretary-General in his latest report pointed out Mr. Shirzad's case as an example of human rights violations.
Amnesty International in a statement demanded his immediate release in 2014 and in a recent statement in connection with the hunger strike of Mr. Shirzad asked for immediate action on his demands and his released in 2016.