Statement of "LEGAM" Campaigners on Mohammad Ali Taheri's Situation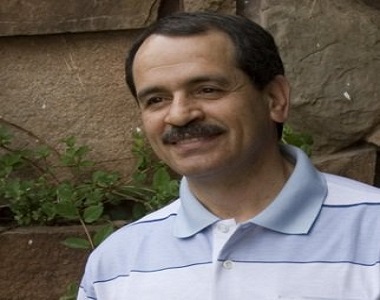 HRANA News Agency – In a statement, "Step by Step to Stop Death Penalty" campaigners demanded the freedom of Conscious Prisoner, Mohammad Ali Taheri the founder of Erfane Halghe (Interuniversalism Mysticism).
According to the HRANA report, this statement says:
On Saturday 15 December 2014 about 40 supporters of Dr Mohammad Ali Taheri, joined Nasrin Sotoudeh at Bar Association of Iran. Ms Sotoudeh is a lawyer who has been on strike in protest to her license suspension for 3 years and will remain on strike until she is allowed to work again.
At 11:00 am, another 30 people joined the group. This group was part of the bigger demonstration which took place on the same morning in front of Evin Prison. That demonstration was finished after police and security forces intervened.
In this gathering, Ms Nasrin Sotoudeh referred to the imprisonment condition of Mohammad Ali Taheri which is a clear violation of primary freedom Article in the Constitution. She also talked about the necessity of freedom of expression and speech and requested the freedom and stop on the prosecution of Mr Taheri who is suffering from physical health issues.
Mohammad Ali Taheri is the central figure of Erfane Halghe and the founder of Faradarmani methods in Iran who has been prosecuted at Islamic Republic Courts after publishing his ideas in this domain. He is currently held in solitary confinement at Evin Prison and his case is undecided; his charges are in a way that based on them, accused people would get the highest possible penalty which is the Death Sentence at court.
During this gathering, protestors as well as complaining against his unsuitable health condition, condemned his open and undecided case and also the court in its attempt to intensify Taheri's sentence, and demanded his freedom.
In this gathering which took place at the entrance of Bar Association of Iran, as well as Ms Sotoudeh, two members of the founding buddy of "Step by Step to Stop Death Penalty" campaign, Mr Alireza Jabbarizadeh and Mr Esmaeel Moftizadeh attended. After security and plain cloths officers started to disperse protestors, Ms Nasrin Sotoudeh and others left at 12:00 pm.
We, "Step by Step to Stop Death Penalty" campaigners, demand the stop on Death Penalty for all instances and establishment of replacement penalties for all charges and crimes. We are specially demanding the dismissal of death penalty and requesting the freedom for prisoners such as Dr Mohammad Ali Taheri who have been jailed because of their thoughts and believes.
"Step by Step to Stop Death Penalty" campaign