27 Death Row Sunni Prisoners in Imminent Danger of Execution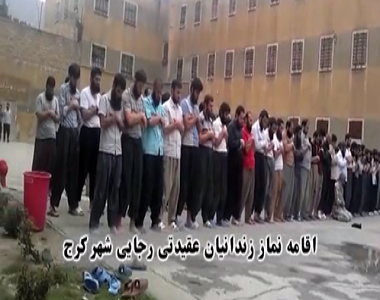 HRANA News Agency – The warden of ward 4 in Rajai Shahr prison in Karaj, has attended Hall 10 of this ward and has told the death row Sunni prisoners that their sentences had been referred to the executive office and  the risk of their execution is very high, if they were seeking forgiveness, they should write their letters soon.
According to the report of Human Rights Activists News Agency in Iran (HRANA), the warden of ward four of the Rajai Shahr prison in Karaj, Mr. Shojaee, has gone to Hall 10 of this prison, where there are 27 Sunni prisoners, with confirmed death sentences, and announced that all their verdicts had been referred to the executive office and the risk of their execution was very high on Saturday 30th April. He has told them: "If you are seeking forgiveness, you should write the requests soon. I do not want to feel guilty, later."
The Sunni prisoners have been sentenced to death by the judiciary on charges including "acting against the national security", "propaganda against the regime", "membership in a Salafist group", "corruption on earth" and "waging war" and in term of the details of their activities, it has not been clarified by the authorities and judicial bodies.
Most of these prisoners have been arrested by the intelligence service agents in Kurdistan, between 2009 and 2011, and were held in solitary confinements for several months, without any trial and with no access to lawyers or having contact with their families. There is a concern that they have been tortured or were mistreated, during that period of time.
According to the information provided to HRANA, most defendants have denied involvement in armed conflict, and said that they have been arrested, only because of their belief and religious activities such as attending religious meetings and distributing religious literature.
It is worth mentioning that at least one prisoner in the list, Barzan Nasrallahzadeh, was younger than eighteen years old at the time of arrest.
The names of these 27 Sunni prisoners who have been sentenced to death, in Rajai Shar prison, in Karaj, are as following:
Kaweh Weisi
Behrooz Shahnazari
Taleb Malleki
Shahram Ahmadi
Kaweh Sharifi
Arash Sharifi
Veria Ghaderi Fard
Keivan Momeni Fard
Barzan Nasrullahzadeh
Alem Barmashti
Pouria Mohammadi
Ahmad Nasiri
Edris Nemati
Farzad Honarjoo
Seyed Shahoo Ebrahimi
Mohammad Yavar Rahimi
Bahman Rahimi
Mokhtar Rahimi
Mohammad Gharibi
Farshid Naseri
Mohammad Keivan Karimi
Amjad Salehi
Omid Peivand
Ali Mojahedi
Hekmat Sharifi
Omar Abdullahi
Omid Mahmoudi