Atena Farghadani, Imprisoned in an Undecided Situation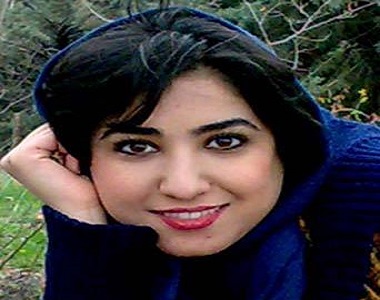 HRANA News Agency – Atena Farghadani, artist and civic activist in the women's ward of Evin Prison is still in uncertain condition waiting for the court of appeal's decision.
According to the report of Human Rights Activists News Agency in Iran (HRANA), Atena Farghadani artist and civil rights activist, had faced alleged adultery illicit relationship charge, when she was summoned to prison to have a meeting with her solicitor, Mohammad Moqimi, which was made following the hand shake with him, on Saturday June 7, 2015.
His lawyer was arrested with the same charge and was transferred to Rajai Shahr prison in Karaj.
Also, the arrest of Atena Farghadani's lawyer caused her miss the time of appeal for the sentence of 12 years and 9 months imprisonment.
The hearing of this case was held in branch 1161 of Tehran General Crime Court, on October 3, 2015.
These allegations have prompted Atena Farghadani to go on hunger strike for three days, because of accusations and verbal abuses by the prison guards.
It is to say that her mother has called these behaviors as "illegal and illegitimate", which led to her daughter's persecution in the prison environment.
Atena Farghadani, who has been held in prison since January 10, 2014, has been sentenced to 12 years and 9 months imprisonment by court, presided by judge Salvati. Her charges were announced as "insulting the MPs by painting", "gathering and collusion against the national security"and "insulting the Supreme Leader of Islamic Republic".
Last year, two months after being held in the Revolutionary Guards prison, Atena Farghadani had said that the main issue in her interrogations was her critical paintings. She is now being held in the women's ward of Evin prison and is still in an undecided condition waiting for the decision of the Court of Appeal.
UN Secretary-General in his recent report has pointed to the imprisonment and new case of Ms. Farghadani and has criticized that the judicial authorities have made this prisoner of conscience to have a virginity test because of her new accusation.