Hossein Ronaghi in Critical Health Condition in Evin Prison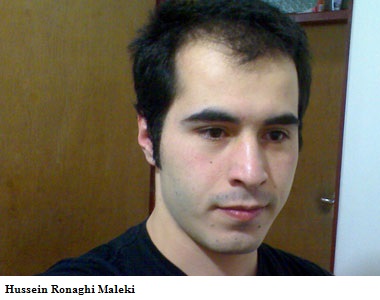 HRANA News Agency – Despite suffering from a serious illness which has been approved by the medical and legal authorities, Hossein Ronaghi Maleki, is still kept in prison and deprived from medical care.
According to the report of Human Rights Activists News Agency in Iran (HRANA), Seyed Hossein Ronaghi Maleki, who was arrested on Saturday 28th February and was summoned to the court in Evin prison and detained there, is in disturbing condition now, in ward 7 of Evin prison.
One of his close relative told HRANA's reporter: "Hossein Ronaghi suffers from kidny faillure and he is still kept in prison's difficult condition and is being deprived of medical care while authorities do not give him his medicines.
The source further stated that: "The authorities have even banned him to go to the ward yard, also to use of prison's Central Library."
Hossein Ronaghi Maleki and his family have written many letters to judicial authorities pointing medical documents and explaining his condition. The followings are images of those letters: