Mohammad Ali Taheri's Wife: "Another Court Session Will Be Held for My Husband!"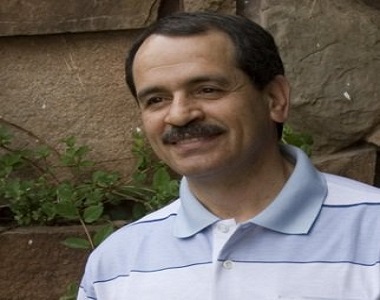 HRANA News Agency – Mrs. Mohammedan, Mohammad Ali Taheri's wife told that soon another court hearing was going to be held for her husband, while emphasizing the threat against any kind of objection due to "being Mr. Taheri's wife", and announced that she would refuse the visits or telephone calls as a form of protest and strike.
According to the report of Human Rights Activists News Agency in Iran (HRANA), Ziba Mohammedan emphasized on the presence of Mohammad Ali Taheri in Branch 26 of Tehran's Revolutionary Court and told "the judge, Mr. Ahmadzadeh contacted me to refer to the court to meet Mr. Taheri, but I did not go because I believe he must be released and I will see him at home."
She continued about the quality of the trial: "Nothing special happened in the court. Only a next hearing has been set for the near future. Mr. Taheri told in the court "death or freedom". Mr. Taheri was prosecuted in the case and judge Ahmadzadeh also admitted that in his case there were no other specific charges."
Mohammad Ali Taheri's wife told in an exclusive interview with HRANA: "He had called home for the last time on Sunday, October 16, and our last visit was on Wednesday, October 12. Over the longer I had no news of him."
Ziba Mohammedan told about her husband's hunger strike: "At the beginning of his hunger strike Mr. Taheri, said in a conversation with me that he would keep going on hunger strike until they would examine the case and determine the result. In our opinion, it means his exoneration and freedom."
She added at the end of the conversation with HRANA: "I as Mr. Taheri's wife would not appear in the court, and also would not go to the prison to meet him. Perhaps there won't be any obstacle to meet and telephone with him, but I'll refrain this possibility as a protest. I cannot do that in another way as Mr. Taheri's wife because I will be threatened as soon as I would protest. This is the only form of protest which I could do."
Mohammad Ali Taheri, founder of the "Erfan-e-Halgheh" was arrested on March 4, 2011, and was sentenced to 5 years imprisonment, 74 lashes and fined 9000 million IRR, by the Revolutionary Court on charges of "blasphemy", "unlawful intervention in the affairs of health and medical treatments", "committing the unlawful act and adultery", "unauthorized use of academic titles like doctor and engineer" and "subversive books and works".
Corruption on earth through distracting people was the other charge against Taheri.
Mr. Taheri's sentence of his first case has ended but, by forming a new case against him and holdover of his detention order, he has been deprived of being released.