Monthly Report – An Overview of the Human Rights Situation in Iran for Shahrivar 1396 Iranian Calendar (23 August 2017 – 22 September 2017 Gregorian calendar)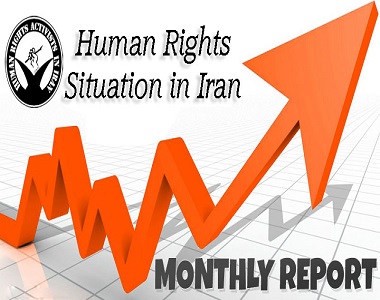 HRANA News Agency – The Department of Statistics and Publications of the Human Rights Activists in Iran (HRAI) has published the following monthly report for the Iranian calendar Month of Shahrivar (23 august-22 September) on the human rights situation in Iran. This report cannot be a comprehensive and complete reflection of the human rights situation in Iran, due to limitation and lack of authorization of activities for independent human rights organizations and in Iran.
It should be noted that in addition to the monthly reports, the Department of Statistics and Publication of the Human Rights Activists in Iran (HRAI) publishes a more comprehensive and analytical annual report on human rights in Iran at the end of each calendar year.
Summery
In Shahrivar 1396 (Iranian Calendar), The systematic violation of human rights in Iran continued exceeding 35 executions, extensive arrests, repression of various gatherings and protests, widespread violation of prisoners rights especially the political prisoners of Rajai Shahr Prison of Karaj, mass hunger strike of Prisoners across prisons, constant violation of freedom of expression, workers and union protests across the country especially concerned with wage arrears, environmental pollution, and other issues that will be mentioned in the report.
In this regard, the UN Commissioner for Human Rights Zeid Ra'ad Al Hussein in his report, again condemned human rights violations in Iran. Also, the UN Special Rapporteur on Human Rights in Iran, Asma Jahangir, in her new report on the situation of human rights in Iran, emphasized that serious human rights challenges remain in Iran.
This report has been gathered based on the information which their authenticity has been verified.
Execution
Execution is Still of the most important violations of human right in Iran. The number of executions carried out in Shahrivar 1396 Exceeded 35 executions, compare to the previous month that is a relative decline in the number of executions.
In previous months from the numerous executions that took place in prisons across the country, most were connected to drug related charges. However, in his month there has been a decline in execution of offenders with drug related charges, and most of the offenders were executed for charges such as murder, Moharebeh, rape, and Theft.
Yet with at least 9 executions performed in public, there has been more promotion of violence in the society compared to previous months. In this regard, the chairman of the Social Workers Association of Iran stated: Public executions have social and psychological harm.
Among the most important news regarding executions in this month, the news of Mohammad-Ali Taheri's death sentence being released to his lawyer, received widespread national and international reactions.
The mysterious execution of Seyyed Jamal Seyyed Mousavi is amongst the most important news regarding executions in Iran in this month. After days of lack of communication with family and friends, Mr. Mousavi was announced to have been executed in Rajai Shahr Prison of Karaj for Moharbeh.
Other most important cases include execution of the convicted murderer of Atena Aslani and death sentenced being issued for the convicted murderer of Bonita, Bonita and Atena both were children whose murders were widely reflected in the media and internet.
Other cases of execution include, issuance of death sentence and prison time for 8 Arab citizens from Shoosh, 5 execution sentences carried out in Kerman, and 4 prisoners have been executed in Rajai Shahr Prison of Karaj.
However, since the 1979 revolution, the mass executions carried out in 1367 Iranian calendar (1988 Gregorian calendar) are still the most flagrant violation of human right and the right to life, which the government is trying to deny, conceal, and destroy its evidence. In this regard, Amnesty International called for an immediate halt to the destruction of the mass graves of the executed prisoners of 1367 in Ahvaz. Also, there has been a video report in the news on section 41 of Behesht-e Zahra where the graves of critics and oppositions are located.
Freedom of Thought and Expression 
Violation of freedom of thought and expression was prevalent in this month with multiple arrests, summons, and suppression of various strata of the society. The arrest of reporters and journalist, and control over the media continued in this month. Following the resignation of the Board of Directors of the Tehran's Journalists' Association, the Iranian authorities were condemned for "violating the fundamental rights of journalists". Furthermore, the news of this month included, the head of BBC asking to put an end to 'harassment of staff in the Farsi department'.
Arrests made in this month includes the following: Mahmoud Langroudi, Mokhtar Assadi (union activist), Ali Nejati (a member of sugar cane syndicate of Haft Tapeh), Siavash Hatam (student activist), Air Labaf (Dervish in Qom), Mohammad Milad Za, Rahele Rahemipour, 7 political activists in Mashhad, Sara Rostami (arrested in Baneh), one Sunni cleric student in Sarbaz, 3 Kurd citizens from the Ahmad Abad Takab, a new Christian couple in Tehran, a number of gatherers in front of Rajai Shahr prison of Karaj, 3 people in Kamyaran, a civil activist in Mahabad, 3 telegram admins in Ilam (charged with Blasphemy), 6 admins of telegram pages related to LGBT in Ardebil, alleged murderers of the murder of two Koulbars in Baneh, 95 people arrested in Kerman under operation of "fight against the cultural invasion of the West", arrest of two civil activists in Dehgahan, etc.
Following the announcement of death sentence for Mohammad Ali Taheri—the founder of Erfan-e Halgheh mysticism—many of his students were arrested. These arrests included the arrest of 17 members of Erfan-e Halgheh in Tehran and Shahr-e-Rey, 3 Erfan-e halghe activists in Tehran, 3 people arrested in Shiraz and in another arrest one women in shiraz, and another member was also arrested in Tehran.
Suppression and summons continued in various cities and with various methods. Including the repeated illegal summon of Farzaneh Jalali –women's right activist—to the intelligence office, Summoning and preventing the journey of the Gonabadi Deravish's Sheikh, Ahmadinejad adviser Ali Akbar Javanfekr summoned for "Insult and spreading lies", etc.
Sentences in this month included: Heshmat-Allah Tabarzadi to 6 years in prison, Mahmoud Masoumi and Elham Rasouli to 13 years in prison, Channel manager of Rohani's supporters sentenced to 4 years imprisonment and 2 years ban on activities in media, 2 years sentence for a person under charges of "Collaboration with USA", Iranian Revolutionary Court indictment for active living abroad, etc.
It should be noted that, the "Entekhab" website was also convicted.
Prisoners Rights
This month like previous months, political and conscience prisoners along with some other prisoners faced physical assaults, and denial of visits and medical leaves. In this regard, Zaynab Jalalian's father has spoken regarding Ms. Jalalian's condition after spending ten years in prison and being deprivation of medical leave and denial to her transfer to hospital, and Kamal Foroughi's child has mentioned: "my father has been needing an eye surgery since a year ago".
The following are among the news concerning violation of prisoner's rights in Iranian prisons: Mohammad Azizi's conditions are worrisome after being physically injured by the prison staff, a detainee's leg being broken by the prison guard in Saravan, a report on Hasan Rastegarie's condition, new sentence and medical issues.
Other major news released this month includes reports from Rajaee Shahr Prison regarding the political and religion prisoners who have been subjected to extreme physical and mental stress.
Tehran's prosecutor's reaction to these strikes was of neglec and violations of the rights of these prisoners. He stated: "we will not surrender the prisoners' hunger strike." After many days of hunger strike, these prisoners turned this strike to a political fasting.
Prisoners in Iran endure numerous pressures, and restrictions for protesting to the authorities in any way. This includes examples such as, Atena Daemi facing medical risk because the head of medical clinic in Evin prison seeking revenge, Mohammad Saber Malek Raeesi deprived of contacting his family due to his hunger strike, Reza Akbari Monfared's Letter explaining his conditions after his hunger strike.
Other news of strikes in Iran's prisons include a report on the critical conditions of Hamza Darwish, and five religious prisoners at Dizel Abad Prison in Kermanshah went on strike.
In relation to the house arrest of the leaders of the Green Movement, the head of the Tehran Revolutionary Court said that the trial will be held when they leave the Islamic compassion; The judiciary stated it is ready to follow Karroubi's request for a public trial.
Subsequently, the issue was investigated at a meeting of the Supreme National Security Council, during which Eje'i the spokesperson for the Iranian Judiciary stated, at a recent meeting of the Supreme National Security Council it has been decided to continue the house arrests.
Religious and Ethnic Minorities
Widespread summons and arrests continued this month. The summons and arrest of dozens of Arab citizens in the province of Khuzestan and the summoning of Ahwaz citizens are still ongoing.
Several arrests that some of them were mentioned in the section of "Freedom of Thought and Expression" are also examples of violations of the fundamental rights of religious and ethnic minorities.
The following are some of the most important arrests made this month regarding religion minorities: Arrest of a Sunni cleric student in Sarbaz, a new Christian couple arrested in Tehran, the arrest of Air Labaf (a Dervish in Qom), Extensive arrests of members of the Erfan-e Halghe.
Several Sunni scholars from provinces of west Azerbaijan, Kurdistan, and Kermanshah, wrote to Ayatollah Khamenei to show their concerns about Mamosta Abdul-Karim Azarin's conditions, and to demand his release.
The following are some of the arrests made during this month in the Kurdish regions of Iran, three Kurdish citizens from Ahmadabad Takab, three citizens in Kamyaran, a civil activist in Mahabad, two civil activists in the city of Dehgolan.
coincided with the announcement of the results of the national examination, many Baha'i students were denied admission to universities in various parts of the country, which is a clear example of a violation of the right to education.
Numerous Baha'I's houses were searched and many Baha'is were arrested in Gilan.
Children's rights
 Iran continues to face widespread violations of children's rights to the extend that, according to official statistics, two child abuse incidents are recorded daily just in the province of Khorasan Razavi. The Deputy of Tehran's welfare has mentioned that child abuse is the most common cause of contacting the social emergency.
Based on official reports from Iran, early age marriage of girls is on the rise. Also, in a separate report, the increase of forced marriages among minor girls in East Azerbaijan was examined.
According to data from the State Registry, annually more than 37,000 girls under the age of 15 get married.
In this regard, the deputy for social affairs of the State Welfare stated not reporting child abuse is a crime, and the person who does not report a child abuse faces prosecutions.
However, in connection with the sexual assault of children and educational strategies to prevent this flagrant violation of children's rights, Deputy Minister of Health mentioned: "cultural restrictions exist for Sex Education."
Many children born from Iranian Mothers and Afghan Fathers were deprived of many of their rights due to lack of identification papers and birth certificates, in this regard, the issuance of a birth certificate for these children was approved by the Sate's Legislative Bill Drafting Commission.
Regarding the right to children's education, there has been a report on children in Chabahr who are left with no birth certificate due to poverty.
Children who once had been burned in the classroom due to lack of adequate facilities are still deprived of treatments. In this regard the head of the medical team attending to treatment of Shinabad students stated, "We do not have the necessary equipment for the treatment of Shinabad's students, and state aids has been halted".
In the context of children's health, according to official statistics, annually 3,000 children with cancer are born across the country. Additionally, a parliament member, warned that children collecting waste are at risk of contracting AIDS.
Of other children's rights violations news this month is the arrests of working children and the protest of a parliament representative to the arrests. Other news includes, two teenage girls committing suicide together in Malekshahi, and the founding 3 abandoned infants in Lenjan and Bandar Abbas.
The working children who were injured in an incident in Vayqan kiln, were announced dead.
Women's Rights 
Women's rights have always been subject to widespread violations throughout the world, but in a country like Iran, we are witnessing a legal violation of the rights of half the society. Parvaneh Salahshouri, the head of the women's parliamentary fraction in the Islamic Republic of Iran said, "The gender gap in Iran is worse than Pakistanis and Saudi Arabia."
One of the most flagrant violations of women's rights in Iran is the ban on the presence of women at the stadiums to watch sport events, this received widespread reactions this month when women were banned on women entering Azadi Stadium in a soccer match between Iran team and Syria. In this regard Parvaneh Salahshouri stated: "I will not go to stadium, because I am against the selective presence of women in the stadiums."
Regarding women's entering stadiums, the deputy minister of sports ministry promised to roof part of Azadi stadium for women; however later, head of Soccer Federation said, "the presence in the stadiums is not a priority for women and society".
In this regard another report that received spotlight was the women in the city council being denied entry to the opening of Imam Reza stadium.
The entry of women into the stadiums has always been opposed by the government and the Ulama.  This month, in the news, we witnessed a clear opposition from Ayatullah Alavi Gorgani in this regard.
This is while there are no other limitations on men and women being together, and even children, to watch other public events, including public executions.
Another major violation of women's rights in Iran is discrimination in the punishment of offenders against women. In this month, there has been various discriminatory prison sentences for murdering and injuring a wife or a child, Disregard for the sexual assault of a number of girls in orphanages that led to only 2 years of involuntary work in senior house for the offenders.
Among other news related to women in this month are the following: The murder of the 16-year-old bride for the chatting on the telegram app, the self-immolation of a young woman with her child in Bandar Torkaman.
Workers and Unions
This month, there has been a lot of tension on demanding for payment of workers' salaries in various parts of the country. Protesting workers at several companies and factories held strikes and rallies to demanding investigation into their claims and demanding their arrears of salaries.
Hepco and Azarab workers multiday gatherings in Arak faced police brutality and anti riot police.
The news of the arrest and the hunger strike of Reza Shahabi, a worker's syndicate activist and prisoner led to many national and international reactions around the world.
These reactions included: a letter by Five Syndicate in France to Emmanuel Macron demanding to save Reza Shahabi's life, a letter from the British Trade Unions Congress, Amnesty international released an statement, 4 syndicate unions in Sweden released a statement, Statement of the Vahed Syndicate and Vahed bus drivers protest, Statement by the Teachers Association of Tehran Province, The donation of award and support of rider in  Merivan, who announced his support for Reza Shahabi and his demands.
A peaceful gathering in support of Reza Shahabi, was accompanied by police clashes and violence.
One of the most important news this month is the protests in Baneh, that took place in connection with the murder of two Koulbar from Baneh.
At first, we witnessed the gathering of the families of the deceased Koulbars in front of the governorate, on the next day this gathering joined with the protest of the Baneh shopkeepers and the gathering of the people of Sanandaj, However the rally faced police violence and the arrest of at least 10 protesters.
Even though the prosecutor general and the revolutionary prosecutor in the capital of Kurdistan Province in relation to the death of the two Koulbars, has mentioned there has been a court order filed, investigations have been initiated and the accused have been arrested, but it seems that the protesters are demanding a more serious investigation and consideration.
Construction workers are among the most important segments of the workforce that are consistently at the risk of workplace safety violations. There have been more than 45 deaths and over 50 injuries among workers in this month.
In this regard the spokesperson for the Association of Construction Workers of the country have stated, every month 5 construction workers lose their life.
According to official statistics, 800 construction workers lost their lives in Tehran during the first 6 months of the year.
The head of the forensic medicine department of Tehran province said that in the first four months of this year, 121 cases of deaths due to work accidents were referred to the forensic centers of Tehran province.
This has been a challenging month for the teacher's activists with news such as, the release of a controversial directive on education, Mahmoud Beheshti Langeroudi's arrest, and expulsion of a professor of political science from Semnan university.
One of the new educational requirements for teacher's, is having no accent. Molavardi in reaction to this directive has stated: I will inquire about the discriminatory directive of education.
Of other important worker's rights news in this month: The families of fire fighters that lost their life in "Plasco" incident are not receiving coverage from the foundation of Martyrs and veterans, a worker burned alive by Sanandaj Municipal Officers, 300 workers threaten to sell their kidneys, A self-immolation attempt by a worker in Gonbad-Kavoos, and repeal of Disciplinary by-law in Hel Glue.
A female worker from Vayeghan kiln is in critical condition with 68 percent burns. Earlier, from this incident Suzan a 15-year-old girl lost her life after a week with 73 percent burns.
Health and Environment
In the field of health and environmental protection, there were numerous reports mainly involving Draught, pollution and fire.
Pollution in the southern provinces is past the warning threshold. For example, dust in Ahvaz is more than 8 times the limit.
There has been extensive oil pollution on the coasts of Bandar Mahshahr. Head of the department of environment in Khuzistan stated: "60 percent of the air pollution in Khuzestan province is due to oil deposits."
Drought and lack of water is a crisis that has affected various wetlands across Iran.
The wetlands of Lorestan province, including the 11 famous wetlands of Poldokhtar that are located on the landslide of Seymareh are in danger of extinction, these wetlands were created about 10-11,000 years ago, the 11,000-year-old wetlands that are now in danger of extinction.
Also, this month, there has been unprecedented draught in Mazandaran and Alandan lake has dried.
The drying of Sulqan wetland in Chahar Mahal and Bakhtiari, the drying of international wetland of Shadegan and Choghakhor, and the drying of the only permanent wetland in Qom province were among the bitter environmental news of this month.
Among the news that received public attention this month, was the news of death of deer of nature reserve of Muteh due to drinking from a spring polluted with cyanide. The reason for this pollution is still unknown.
Fire destroyed several hectares of pastures due to the lack of deployment of relief forces.
Cultural
Of the most important news on cultural issues this month, the seizure of a passport of the Iranian director Mohammad Rasoulof at the Tehran airport, could be mentioned. An issue that was not clear and the officers seized the passport of this Iranian director without any explanation.
It seems that after the cancellation of concerts in the various provinces, its turn for theatres. Director of the play "If You Die", which was scheduled to perform in the private hall of "Hamoon" in Rasht, announced that the Guilan Provincial ministry of culture and Islamic Guidance did not issue the permission to perform the play, and has closed all the ways of communication and dialogue.
Amongst other Cultural news are the news of the, support of a theater for laid off workers in three factories and Persepolis at the risk of destruction after lab subsidence.
Military and judicial violence against citizens
In this month military and judicial violence continued in Iran, including the flowing news: sentence to amputation of hand carried out in Qom, two burglars received sentence of amputation of fingers due to robbery from a cold cut shop.
Koulbars were faced by violence and shootings by the Armed Forces of Islamic Republic of Iran. at least 6 Koulbar were injured and 5 deaths in this month.
The incident of the murder of two Koulbars in Baneh this month was accompanied by many reactions and protests. Regarding Koulbars rights various authorities have shown reactions, some of these reactions were in direction of improving condition of Koulbars. According to Baneh Governor, all the heads of families in a radius of 15 meter of the village will be subjected to a Koulbar cheque book and the heads of these families will receive a 500$ a month.
In relation to flagellation this month Over 1300 flogs were issued.
Of other violations of rights of citizens is the arrest of 50 people in Sirjan and Varamin.
A mine blast also injured 2 citizens.
It should be noted that Bahman Taherkhani, a member of the Judicial and Legal Commission, said public showcasing of the offenders would lead to ending ugly deviant acts.
1-The reports in the spot light
In this section of the monthly report, the most controversial cases of violations of human rights and the news that received the most attention of the public are highlighted. The special attention given to following reports does not indicate that the content of these reports is of greater violation of human rights.
In this month, the news of Reza Shahabi's hunger strike received great deal of attention from the public. Additionally, the news regarding Hepco and Azarab workers multiday gatherings received national and international attention.
Mohammad-Ali Taheri's sentence to death also received attention in Iran and around the world.
Another news that was reflected broadly was the news of peoples protests and clashes regarding the murder of two Koulbars.
2-The reports in the shadow
In contrast to the reports mentioned in the previous section, many human right reports received little or no attention from social media, bloggers, Internet activists, who are considered key contributors of the public opinion. It should be noted that this unintentional or intentional negligence has results in continuation and further spread of human rights violations in Iran.
Issuance of death sentence and prison time for 8 Arab citizens from Shoosh, 5 execution sentences carried out in Kerman, and 4 prisoners have been executed in Rajai Shahr Prison of Karaj, and the mysterious execution of Seyyed Jamal Seyyed Mousavi, were some of the important news that did not receive great deal of attention.
Tens of Baha'i students were denied admission to universities in various parts of the country, and restrictions for tens of political prisoners in Rajai Shahr Prison of Karaj, are also among the news that did not did not received the deserved attention from the public