Political Prisoners' Letter about Arash Sadeghi's Critical Health Condition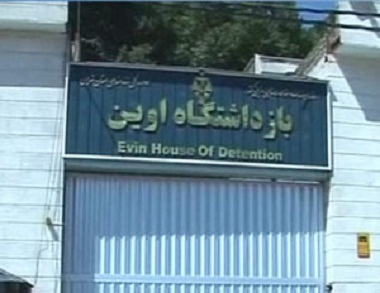 Evin Prison, Tehran, Iran
HRANA News Agency – Ismail Abdi, trade unionist and Yousef Emadi, imprisoned artist in ward 350 of Evin prison, in a letter to the head of Evin Prison, warned him about the worsening health condition of imprisoned activist Arash Sadeghi in this ward and called for addressing his situation and sending him to the hospital. Mr. Sadeghi suffered from numerous medical problems after the hunger strike and is being deprived of receiving adequate medical treatment.
According to the report of Human Rights Activists News Agency (HRANA), on April 3, 2017, two political prisoners in ward 350 of Evin prison by writing a letter to President Chaharmahali, warned him about the "humanitarian disaster by worsening Arash Sadeghi's condition and his extreme weakness".
Ismail Abdi, a former member of the Teachers Union and Yousef Emadi, imprisoned artist in ward 350 in a letter which was delivered to the Office of the Head of Evin Prison, have expressed their concern about the poor health of their roommate, Arash Sadeghi whose stomach dose not digest "with the exception of water, tea and some soup."
Mr. Abdi and Mr. Emadi, in their letter called for the rapid deployment of Arash Sadeghi to the hospital.
Arash Sadeghi former active student, human rights activist and former student at Allameh Tabatabai University in Tehran, was sentenced to 19 years in prison on charges of gathering and colluding against national security, insulting the supreme leader, propaganda against the state and spreading falsehoods in cyberspace and organizations.
Arash Sadeghi and a number of students protesting the election results in 2009 were arrested in front of the Allameh Tabatabai University in Tehran, by Ministry of Intelligence officials on July 9, 2009, and released on the bail after 90 days.
The human rights activist was arrested in 2014 again by the IRGC and after 6 months in prison, he was released on the bail of 6 billion IRR. When he was temporarily freed, officers raided his home to arrest him, which led to stroke and ultimately death of Arash Sadeghi's mother.
Arash Sadeghi was detained in the court of the Shahid Moghadas in Evin prison for serve his sentence in 2016.
He went on hunger strike for 70 days in protest against his wife, Golrokh Brahimi Irai's conviction and arrest in 2016.