Three Activists Released on the Bail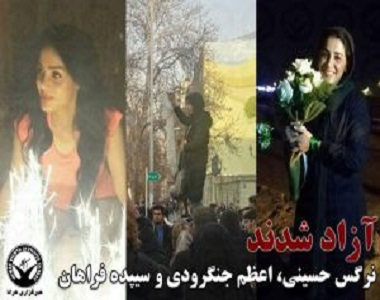 HRANA News Agency – Sepideh Farhan, Azham Jangravi and Narges Hosseini, civil activists, were released from prison on the bail. Ms. Jangravi and Ms. Hosseini were among the women who were arrested in protest against the forced hijab, and Ms. Farahan was among the detainees in the recent protests in the country.
According to the report of Human Rights Activists News Agency in Iran (HRANA), three detained civil activists were released from Evin Prison and Gharchak Prison on the bail.
It has been reported that Sepideh Farahan was released from Evin Prison on a bail of 2.50 billion IRR, Nargis Hosseini was released from Qarchak prison in Varamin on a bail of 600 million IRR and Azam Jangravi was also released on the bail but the amount of the bail is yet unknown.
Narges Hosseini and Azam Jengravi are protesters to the forced hijab rule, who had been arrested by security forces.
Sepideh Farhan had been arrested by security forces on January 2.
Also, Narges Hosseini, another protester against the forced hijab rule, had been arrested on February 12.
Since the last December, many women have been protesting the mandatory wearing of women's hijab in Iran by symbolically moving their headscarves and attaching them to wooden sticks. This movement continued with more protesting women on January 29, 30 and 31.