3 Civil Activists Transferred to Arak Central Prison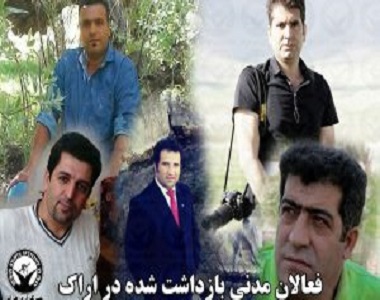 HRANA News Agency – Mohammad Najafi and Ali Bagheri, two of the detainees of the recent protests were transferred to the Central Prison of Arak, after completing the interrogation process. Behzad Ali Bakhshi, another civil activist from Arak, was also transferred to Ward 8, the Health Ward.
According to the report of Human Rights Activist News Agency in Iran (HRANA), Mohammad Najafi, a lawyer and human rights activist, along with Ali Bagheri, a civil activist, were transferred to the general Ward of Central Prison of Arak.
Also, it has been reported that, Behzad Ali Bakhshi, who went to the Arak Intelligence Office, after being summoned on January 20, was arrested and transferred to the Central Prison of Arak and after two weeks, he was transferred from the prison diagnostic Ward to Ward 8 of Central Prison of Arak, on Sunday February 4.
All three of these detainees are still in an uncertain condition, as well as the fact that gentlemen Najafi and Bagheri did not meet with their families.
In the case of Mr. Najafi, it is necessary to explain that he was arrested by security forces in front of his home, on January 15, 2018.
Mr. Najafi has several records of arrest and summons, including one which previously was reported, on October 11, 2016, the lawyer was arrested on charges of wearing a shirt which read "Ashura 88", on a street in Shazand, by the Ministry of Intelligence agents, but Mr. Najafi was released on a bail of two 2 billion IRR shortly afterwards.
On the other hand, the court of this lawyer was held on charge of propaganda against the regime, on November 8, 2017.
The charge against this human rights activist in the court was propaganda against the regime due to the publication of the article on the Telegram channel and his Facebook page.
All three detainees are in jail for publicizing information on the facts of the death of one of the recent protests in Iran, called Vahid Heidari.
The Iranian authorities tried to demonstrate the irrelevance of the death of Vahid Heidari, on the one hand, and to say that he was addicted which with the continued efforts of these civil activists from Arak, the opposite was proven.