On February 29, 2020, Ebrahim Raisi, the Chief Justice of Iran, issued a circular laying out policies to prevent the spread of Coronavirus in prisons.  This order mandates giving 15 -30 days furlough to prisoners with sentences less than five years. Another part of this order is about reducing entries into prisons, temporary releases, and public activities in prisons. In addition, this order mandates to increase alternative sentences and suspended prison terms instead of imprisonments.
Although the Chief Justice of Iran announced that the prisoners with less than five years prison term will be granted furlough, the prison authorities are not cooperative with political prisoners and prisoners of conscience to implement this regulation. As an example, Esmaeil Abdi and Negin Ghadamian were sentenced to five years imprisonment and after spending four and three years in prison respectively, they were not granted any furlough. Nazanin Zaghari's husband reported that she is suspected to have Coronavirus. She is serving the 4th year of her five-year imprisonment sentence. Reportedly, three women were diagnosed with Coronavirus in Evin Prison.
The number of prisoners suspected of having coronavirus is increasing. Several prisoners suspected of having coronavirus were identified in Urmia, Khorramabad, Gorgan, Sanandaj, Qom, and other prisons.
A letter from political prisoner's families
With the current spread of Coronavirus in prisons in Iran, some of the families of the political and security prisoners have written a letter to the judicial authorities on February 26, 2020, requesting furlough for prisoners until this crisis (Coronavirus) is over in the prisons. Considering the closed environment of the prison, malnutrition of the prisoners, shortage of medical care and facilities, high density of prisoners, and the occurrence of some cases suspected to be related to coronavirus has raised concerns of the families of prisoners.
The families of the following prisoners have signed this letter:
Mahmoud Beheshti Langeroudi, Esmaeil Abdi, Mohammad Habibi, Narges Mohammadi, Amir Salar Davoudi, Farhad Meisami, Roeen Otoufat, Jafar Azimzadeh, Shahnaz Akmali, Majid Azarpey, Atena Daemi, Sam Rajabi, Morad Tahbaz, Niloufar Bayani, Abdolreza Kouhpaieh, Amirhossein Khaleghi, Houman Jokar, Taher Ghadirian, Neda Naji, Mehrdad Mohammadnejad, Mohammad Abolhasani, Peyman Koushkbaghi, Aras Amiri, Jafar Fazel, and Alireza Golipour.
In some of the prisons, such as Khorramabad or Sanandaj Prisons, the prisoners asked the authorities to provide them with medical and hygiene necessities and to quarantine the prisoners who are suspected to be infected and have threatened that if this negligence is continuous, they will go on hunger strike. Other prisons such as Karaj, Tabriz, Evin and many other prisons across the country are also demanding similar precautions.
A death in Greater Tehran Central Penitentiary
It should be noted that on the same day, a prisoner of Greater Tehran Central Penitentiary who had symptoms similar to that of Coronavirus passed away after the prison authorities delayed in transferring him to the hospital to receive proper medical care. His name was Hamid Reza and he was 44 years old. He was convicted of a financial felony who was serving his sentence in Greater Tehran Central Penitentiary. He was initially diagnosed with symptoms of flu but after a few days, he started to cough and eventually passed away in the prion.
In addition, 60 prisoners of Greater Tehran Central Penitentiary who were working in the kitchen or service sector, were transferred to Rajai Shahr Prison. Moreover, 7 other prisoners in section 5 ward 2 have Coronavirus symptoms; they were kept in the medical ward without receiving medical care and were not transferred to the hospital.
Evin Prison and the violation of the Prisoners Classification Regulation
Amir Hossein Moradi, Saeed Tamjidi, Mohammad Rajabi, Milad Arsanjani, Jamil Ghahremani, and 15 other arrestees of the last November's protests who were kept in Greater Tehran Central Penitentiary, were moved from their cell after an inmate was diagnosed with Coronavirus in their cell. Amir Hossein Moradi returned to prison on February 29, 2020, after spending a week in the hospital for another disease. He returned to his cell but after an hour he was transferred to the medical ward for his positive test results of Coronavirus. Although they were told that they will be transferred to Yaft Abad Hospital, they were transferred to ward 1 of this prison, which belongs to the prisoners who committed violent crimes. In June 2019, Alireza Shir Mohammadi, a political prisoner, was fatally stabbed in this ward by two other inmates of this ward who were charged with a drug felony. After this incident, the prison authorities moved other political prisoners from this ward to avoid future incidents. This is against prisoners' segregation rule. According to a close source "section, 1 of the Greater Tehran Central Penitentiary has 10 wards and one suite which had been used as an exile to punish the prisoners who get in the fight or carry drugs. Since 2018, the political prisoners have been transferred to this suite. This suite has limited facilities and does not even have access to prison commissaries. Their door should be locked all the time however, in the case of Mr. Shir Mohammadi, the warden intentionally did not lock the door which was illegal.
Alireza Shir Mohammadi, a 21-year-old political prisoner at the Greater Tehran Central Penitentiary was murdered in prison on June 10, 2019. He was attacked by two other prisoners, who were later convicted of murder and sentenced to death. The prisoner in question was stabbed in the neck and stomach and died before arriving at the hospital. Shir Mohammad Ali was arrested on July 14, 2018, and was sentenced to eight years in prison on charges of "blasphemy", "insulting the former and current Supreme Leaders", and "propaganda against the state".  He was detained in a solitary confinement cell for 36 days after being arrested. His bail was set at 80 million Tomans but the Revolutionary Court illegally rejected his release on bail. Throughout his prosecution process, he did not have access to an attorney because of his financial conditions. He was waiting for the decision of the appeal's court when he was murdered. He protested his detention along with non-political prisoners and went on a hunger strike on March 14, 2019, which ended on April 16 after prison authorities accepted his demands. He also wrote open letters criticizing the "unsafe" and "inhumane" conditions of Greater Tehran's Penitentiary Prison. He wrote an open letter five days into his hunger strike on March 18, 2019. In this letter, he explained the awful condition he was experiencing in prison. In addition, he claimed that he was denied regular social rights that any prisoner is entitled to have. However, his main request, reflected in this letter, was to be transferred to another prison (Evin prison). No judicial authorities or prison officials reacted to his open letter. 
A prisoner of ward 4 of Evin Prison was transferred to an unknown place for his positive test results of Coronavirus. He kept with several other prisoners and political prisoners of this ward who are on hunger strike and are more vulnerable to this disease.
Khorramabad and Ghezel Hesar Prisons
On March 1, 2020, the prisoners of Khorramabad Prison have started a sit-in to protest not being sent to furlough although Coronavirus has spread in this prison. There is a shortage of access to medical care and hygiene products for the diagnosis and treatment of Coronavirus. Several prisoners who have symptoms of this disease did not receive any treatment and were kept with other prisoners. Several prisoners who went on furlough were returned to prison. A close source to a family of a prisoner in this prison told HRANA that a sick inmate with severe coughs received neither medical care nor disinfecting substances and hygiene products such as alcohol, mask, and gloves.
Two prisoners of Qezelhesar Prison, Basat Ali Khazaei, and Gholamhossein Abolfavaei were moved to the quarantine section in the health ward due to having positive test results of Coronavirus. They were charged with drug felony and kept in a ward with 500 other inmates.
Rajai Shahr and Urmia Prisons
The prisoners are deprived of medical care, disinfecting substances, and hygiene products such as alcohol, mask, and gloves.  Payam Shakiba, Mohammad Banazadeh Amirkhizi, and Majid Asadi are serving their third year in prison. Arash Sadeghi, who is diagnosed with Chondrosarcoma (bone cancer), has had an infection in his right hand, digestion issues, and because of his weak immune system should be prioritized to be granted a furlough. Saeed Shirzad is spending the last months of his prison sentence.
On March 2, 2020, Mohammad Ghanbardoost, a political prisoner, was transferred to the hospital due to having symptoms of coronavirus disease. He kept with other political prisoners and may infected others. He was arrested on August 16, 2017, and was sentenced to five years in prison on the charge of "cooperating with Takfiri groups".
Several Coronavirus suspected patients in Urmia Prison were transferred to hospitals outside the prison. One Urmia prisoner died in hospital, but prison authorities claimed that he was infected outside the prison.
Update on political prisoners temporary releases
On March 3, 2020, Mohammad Karimi granted a furlough and temporarily released until April 3, 2020. Mr. Karimi was sentenced to one-year imprisonment on the charge of "propaganda against the state" which was upheld by the appeals court. on July 3, 2020, he was arrested and transferred to Evin Prison to serve his sentence.
On March 2, 2020, Shahnaz Akmali, political prisoner, was granted a furlough and temporarily released until April 3, 2020. She was arrested on January 15, 2020. She was sentenced to one-year imprisonment and was banned from having any social media account, membership in any group, and leaving the country on the charge of "propaganda against the state". An appeals court upheld her sentence without hearing either Ms. Akmali or her attorney. She is the mother of Mostafa Karim Beygi one of the people who was killed by security forces during green movement uprising in 2009.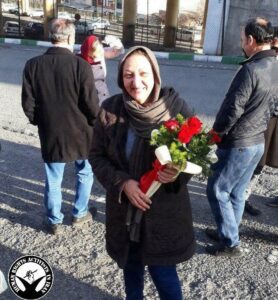 On February 29, 2020, Reza Gholamhosseini, a political prisoner of Bandar Abbas Prison, was granted a furlough and temporarily released until April 3, 2020. He was arrested on September 25, 2019, and was sentenced to three years imprisonment on the charges of "propaganda against the state" and "insulting supreme leader". His sentence was reduced to 18 months later because he did not request an appeal.