This leaflet contains the 2016's analytical and statistical annual report on the human rights in Iran, prepared by the Department of Statistics and Publications of Human Rights Activists in Iran (HRAI). This statistic analysis report presented by HRAI is the result of the daily efforts of this organization and its dedicated members as part of a daily statistic and census project that started in 2009 by this organization.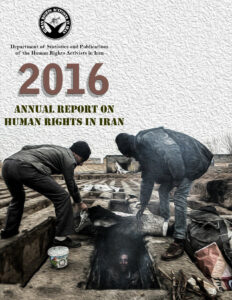 This annual report on human rights violations in Iran (2016) is the collection, analysis, and documentation of 3439 reports concerning human rights, gathered from various news sources during 2016. Human Right Activists News Agency (HRANA) has gathered and reported 28%, official or close to the Iranian government sources 63% and other human rights news agencies 9% of all the reports analyzed in this Annual Report.
The following 31-pages includes statistical overviews and related charts on various sections regarding women's rights, children's rights, prisoners' rights and etc. based on this report, despite the 4% increase in human rights violations reports in provinces other than Tehran, compared to the last year's annual report, there is still a major concern on lack of proper reporting and monitoring of the human rights situation by the civil society in the smaller cities.
This report is the result of endeavors made by courageous human rights activists in Iran who pay a very high cost for the realization of their humanitarian beliefs. However, for obvious reasons (i.e. existing governmental limitations and ban on the free exchange of information and government preventing the existence of human right organizations in the country), this report by no means is free of errors and cannot alone be a reflection on the actual status of human right in Iran. However, it should be emphasized that this report is considered as one of the most accurate, comprehensive and authentic reports on the human rights conditions in Iran and it can serve as a very informative source of information for human rights activists and organizations working on Iran, to better understand the challenges and opportunities that they may face.
Human Rights Activists in Iran (HRAI)
Department of Statistics and Publications
January 2017