According to HRANA, the news agency of Human Rights Activists, a number of protests took place this week in Iran, many of which were continuations of ongoing movements.  Read our recap below for details, photos, and videos from the demonstrations.
Saturday, September 25
This Saturday, the family of Amir Hossein Hatami, who recently died under suspicious circumstances in custody, gathered in front of the Greater Tehran Prison to demand accountability from prison officials. Also, in 36 cities across the country, working and retired teachers rallied in protest. Working and retired workers of Homa Airline gathered in front of the Ministry of Roads and Urban Development building in Tehran, and employees of Iran international General Contractor Company (IGC) went on strike in Asaluyeh.
Working and retired teachers in protesting in 36 cities across the country:
Sunday, September 25
On Sunday, a number of Workers Protests took place. Employees of the road construction and mining company Mobayen, retirees of Fulad steel company in regard to their pension fund in Isfahan and Khuzestan, and employees of Pars Tabiaat Celulose and its parent company, Kaghaz Pars, all held demonstrations.
Retired workers o
f a steel company (Fulad)'s  about pension funds in Isfahan and
Khuzestan: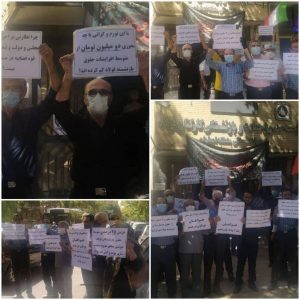 Employees of the road construction and mining company Mobayen:

Protests of workers of Kaghaz Pars company and its daughter company, Pars Tabiaat cellulose: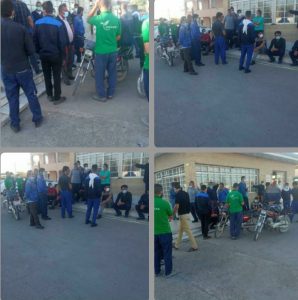 Tuesday, September 28,
This Tuesday, a number of Haft Tappeh workers protested once again. Victims of fraudulent activities boycotted a car retail company in Jam County. Additionally, retirees of the Ministry of Health in Khuzestan, Isfahan, Gilan, Golestan, and East Azerbaijan protested.
Wednesday, September 29
Buyers who pre-purchased cars protested Shahrkhodro Company for not receiving thir orders on time. Kerman coal company workers protested low wagest, and workers of Haft Tappeh went on strike for a second consecutive day. A number of truck drivers in Saveh also protested delays in fuel shipments.
Dissatisfied purchasers of cars against ShahrKhodro Company:
Workers of Kerman Coal Company demanding higher wages:

Haft-Tappeh workers on strike

:
Thursday, September 30
Teachers in Qom and Markazi provinces demanded better conditions and higher wages this Thursday. Service personel of the ministry of education also protested poor job conditions in Chaharmahal and Bakhtiari.
Teachers in Qom and Markazi provinces regarding wages:
Haft Tappeh workers on strike: