Human Rights Activists News Agency (HRANA) – A summary report on the most recent news of arrests, imprisonment, and executions in Iran from the the last week of July 2018 to August 7, 2018.
Iraj Mohammadi and Mohammad Amin Agoushi Released from Tabriz Prison
Political prisoners Iraj Mohammadi and Mohammad Amin Agoushi were released from Tabriz Prison on Sunday, August 5, 2018, following the end of their judicial sentence. In September 2007, Mr Mohammadi and Mr Amin Agoushi were sentenced to a 10-year prison exile term each on the charge of "Acting against national security".
Last week, HRANA reported on a hunger strike launched by Iraj Mohammadi in objection to the Iranian authorities preventing his release from prison despite reaching the end of his conviction.
Iranian authorities arrested Mohammad Amin Agoushi on September 23, 2007, on the charges of "Espionage" and "Cooperation with Iraqi Kurdistan". In May 2008, branch 2 of the military court in Urmia charged him with "Moharebeh" (enmity against God) and transferred him to Urmia's central prison. Four months later, Judge Hafiz Ghaffari sentenced him to death by a firing squad.
In 2010 the retrial request was approved and the case was sent to branch 31 of Iran's Supreme Court where the sentence was reduced to ten years in prison exile. Iraj Mohammadi and Mohammad Amin Agoushi were transferred to Tabriz Prison from Zahedan in March.
In February 2017 Iraj Mohammadi explained some points in an open letter about rejecting his request for amnesty. Mr Mohammadi emphasized that the mentioned reasons were false, stating that he suffered from nervous and mental illnesses as a result of being held in solitary confinement for eight months and tortured at the onset of his arrest.
Sunni Prisoner Yasser Sharafipour Suffers from Medical Neglect
On Friday, August 3, 2018, the chest, abdomen and back of Yaser Sharafipoor, a Sunni prisoner in Karaj's Rajai Shahr Prison, was burned with hot water.
An informed source told HRANA: "The burn was so severe that he had difficulty breathing. Prison authorities transferred him to the clinic but they only used burn ointment and returned him to the ward. When the prisoner protested, they sent him to the hospital with handcuffs and shackles. Despite the recommendation of the doctors to hospitalize him, he was returned to the prison.
Arraignment of Kamal Abdollahi in Urmia Court
Kamal Abdollahi, a citizen from Piranshahr who is held in Urmia's central prison, was charged with "Acting against national security" by branch 6 of the Urmia Revolutionary Court on Wednesday, August 1, 2018. No information was given to Mr Abdollahi regarding the reason for the charge.
Iranian authorities arrested Mr Abdollahi on May 5, 2018, and held him for three months in a detention center operated by the Ministry of Intelligence in Urmia.
Five members of the Syndicate of Workers of Tehran and Suburbs Bus Company Arrested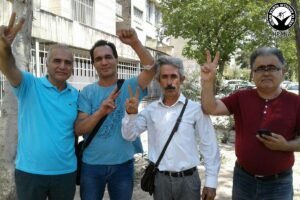 On the morning of August 5, 2018, drivers of the United Bus Company of Tehran went to the company's offices to track their housing situation in connection with issues such as the lack of delivery of housing to members despite paying all the agreed amounts in the contract. When they arrived, they were not allowed to enter, which sparked a protest that was cracked down by police forces. During the crackdown, five members of the Syndicate of Workers of Tehran and Suburbs Bus Company were arrested. The individuals are Hassan Saeedi, Davood Razavi, Atta Babakhani, Ali Ghorbanian and an unidentified person.
A close source tells HRANA: "Their detention was a result of a request by Mr Sanandaji, the President of the company. Members of the Syndicate of Workers of Tehran and Suburbs Bus Company gathered in front of branch 4 of Tehran's security offices to support their detained colleagues until their release."
The five workers were reportedly released hours after they were detained.
Intelligence Agents Arrest Young Man from Zarabad
According to HRANA's sources and the Baloch Activists Campaign, a 35-year-old man by the name of Abdul Latif Miran Zehi was arrested by Intelligence agents on August 2, 2018, and transferred to Chabahar Prison.
An informed source said: "Abdul Latif Miran Zehi was getting his hair cut at a salon in Zarabad when he was arrested, handcuffed and taken by Intelligence agents who did not present an arrest warrant."
No information about the reason for his arrest is available at this time and Mr Miran Zehi's family is unaware of his condition following his arrest.
On May 25, 2018, a 23-year-old man by the name of Abdul Ghani Miran Zehi was arrested by Intelligence agents.
Gonabadi Dervish Maryam Farsiyabi Sentenced to Six Months in Prison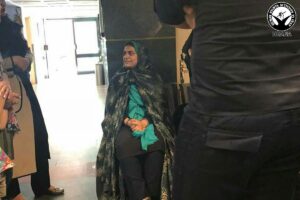 According to close sources and the Sufi news website Majzooban-e Noor, Maryam Farsiyabi, a Gonabadi Dervish, who is detained in Charchak Prison in Varamin, was sentenced to six months in prison and a two-year travel ban by branch 15 of the Tehran Revolutionary Court.
Ms Farsiyabi was arrested on February 20, 2018, during the "Golestan 7th Avenue Event" which she attended with her husband, Mohammad Karimayee, and hundreds of other Gonabadi Dervishes.
Ms Farsiyabi was beaten by Iranian authorities to the point that she suffered from a fracture to her hand and her jaw was dislocated.
Mr Karimayee was recently sentenced to seven years in prison by the Tehran Revolutionary Court.
Maryam Farsiyabi, along with other women Dervish prisoners, launched a hunger strike on June 15, 2018, in protest of a violent attack by the guards. They ended their hunger strike on June 30, 2018.
Mohammad Mozaffari lashed 74 times in Evin Prison
The 74 lashings sentence for Mohammad Mozaffari was reportedly carried out in Evin Prison on Sunday, August 5, 2018. Mr Mozaffari is a political activist who was sentenced to two years in prison, 74 lashes and a 20,000,000 Rial [approximately $200 USD] fine on the charge of "Propaganda against the regime". The sentence was issued by Abolqasem Salavati, a judge in branch 15 of the Tehran Revolutionary Court.
On June 18, 2018, Mohammad Mozaffari was sent to Evin Prison to serve his two-year sentence.
Mr Mozaffari's lawyers objected to his judicial sentence and the case was referred to the appeals court. Mr Mozaffari's sentence was upheld by branch 36 of the Tehran Appeals Court.
Four prisoners were executed in Minab and Bandar Abbas
Iranian official sources have reported on the execution of three prisoners in Minab Prison on rape charges. The executions were reportedly carried out on the morning of Wednesday, August 8, 2018. According to an Iranian state-run news agency, the unidentified prisoners were accused of kidnapping and raping a woman in 2016 in the city of Minab.
Minab is one of the eastern cities of the Hormozgan province in southern Iran.
Prisoner at Bandar Abbas Central Prison Executed
On the morning of Tuesday, August 7, 2018, a prisoner convicted of "Murder" was reportedly executed in Bandar Abbas's central prison. The prisoner, who has been identified as 46-year-old Amir Ali Kolivand, was arrested in June 2014.
Mr Kolivand was transferred from Haji Abad Prison to Bandar Abbas's central prison on Monday, August 6. Haji Abad is the northernmost city of the Hormozgan province and is located near the Kerman province.
Regarding Mr Kolivand's case, an informed told HRANA: "Amir Ali Kolivand was also charged with trafficking 5 kilograms of crystal meth, but he was executed on the charge of killing a bus driver."
Mr Kolivand's execution has not been announced by Iranian official sources.
According to Amnesty International's annual report, Iran, in proportion to population per capita and executions, ranks first in the world in executions.
An annual report published by the Center of Statistics at Human Rights Activists in Iran (HRAI) states that more than 60% of executions in Iran are not reported by the state or the Judiciary. These executions are considered "secret executions".
According to registered data from 2,945 reports by the Statistics, Publications and Achievements Division of HRAI, in the past year (from March 21, 2017, to March 18, 2018), at least 322 citizens were executed and 236 others were sentenced to death in Iran. Among these, there was the execution of four juvenile offenders and 23 public hangings.
Baha'i Citizen in Yazd Arrested
Mehran Bandi Amirabadi, a Bahai citizen, was arrested without a warrant by security forces on Tuesday, August 7, 2018, in the city of Yazd (conservative religious capital of the Yazd province).
A close source confirmed the news and told HRANA: "At noon, security forces arrested Mehran Bandi Amirabadi at his workplace."
Mr Amirabadi was tried with six other Bahai citizens in branch 3 of the Yazd Appeals Court. Mr Amirabadi was sentenced to one and a half years in prison and one year in exile in Divandareh (a remote city in the Kurdistan province).
Iranian Baha'i citizens are systematically deprived of religious freedoms, while according to Article 18 of the Universal Declaration of Human Rights and Article 18 of the International Covenant on Civil and Political Rights, everyone is entitled to the right to freedom of religion and belief, and the right to adopt and manifest the religion of their choice either individually, in public or in private.
Based on unofficial sources, more than 300,000 Baha'is live in Iran. However, Iran's Constitution only recognizes Islam, Christianity, Judaism, and Zoroastrianism and denies recognizing the Baha'i faith as an official religion. Consequently, the rights of Baha'is are systematically violated in Iran.
Political Activist Mokhtar Zarei Temporarily Released from Prison
According to close sources and the Kurdistan Center for Democracy and Human Rights, political prisoner Mokhtar Zarei was temporarily released on bail from Sanandaj Prison on Tuesday, August 7, 2018, after 17 days of detention.
Mr Zarei was reportedly arrested on Saturday, July 23, 2018, and summoned to court.
A few days before his arrest, Mr Zarei claimed the reason for his arrest is his criticisms against Ali Khamenei, the Supreme Leader of Iran, and the human rights violations in Iran.
Environmental Activist Yousef Farhadi Babadi Summoned to Court
Environmental activist Yousef Farhadi Babadi was reportedly summoned to branch 118 of the Isfahan Criminal Court regarding Dr Abedi's (parliament representative of Isfahan) lawsuit. Mr Babadi was released on bail from Isfahan prison on March 12, 2018.
On March 5, 2018, Mr Babadi received a subpoena and a call from the Chaharmahal and Bakhtiari Province's prosecutor's office regarding his publication in a social media channel called "Sound of Water", which mainly criticized the water situation in Iran. This subpoena was issued to him based on the charge of "Disseminating lies and disturbing public opinion in cyberspace".
A Civil Rights Activist in Marivan and Two Others in Oshnavieh Arrested by Intelligence Agents, Transferred to Unknown Location
According to close sources and the Kurdistan Center for Democracy and Human Rights, in the last week of July 2018, Marivan intelligence agents arrested Arman Ghafouri, civil rights and environmental activist, and transferred him to an undisclosed location. Mr Ghafouri's family has not been able to obtain any precise information about the reason for his arrest or the location where he is being held.
Previously, Armin Ghafouri and eight other civil rights activists were arrested on March 12, 2018, and interrogated by Iranian authorities regarding their participation in a gathering condemning the "Turkish military operation of Afrin". army's attack on the Afrin city". They were subsequently released on bail.
During the past few days, Kamel Ahmadi and Tayyeb Bamorovat were arrested by Intelligence agents for the charge of "Cooperation with a Kurdish opposition party" and transferred to an unknown location. A total of seven citizens from Oshnavieh have been arrested for the same charge and the identity of only five of them has been identified thus far.